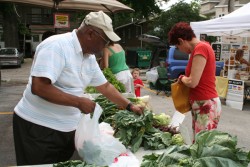 The Drake Neighborhood Farmers' Market on July 1 will feature chemistry demonstrations and experiments by the Drake University Chemistry Department.
Shoppers can also obtain information about dental hygiene, provided by students at Des Moines Area Community College's dental clinic. Free toothpaste and toothbrushes will be handed out while supplies last.
The market will be open from 4 to 7 p.m. every Wednesday through Sept. 30 in the parking lot of First Christian Church, 2500 University Ave. Free parking is available for shoppers across from the market on the east side of 25th Street.
More than 20 vendors will offer Iowa-grown produce, baked goods, snacks, meals, sandwiches and crafts. Four vendors will have wireless equipment to accept bank debit cards, VISA, Discover and MasterCard credit cards, as well as Electronic Benefit Transfer cards.
IFMNP/WIC checks and Senior Farmers' Market Nutrition checks are welcome at the market.
Entertainment will be provided weekly, as well as educational and informative guests. The market has a health tent, where free blood pressure checks and blood sugar tests will be available every week.
The market is a nonprofit, community project sponsored by First Christian Church, the Drake Neighborhood Association and Drake University. For more information, call Ginny Gieseke at 515-277-6951 or visit the market's
Web site.
Activities scheduled for upcoming market days include:
Children's Book Party — Each child will receive a free book
Free Face Painting
Visiting Nurse Services — Learn about their programs such as Care for Kids, Transportation Services and Maternal Child Health Outreach
Free Root Beer Floats — First Christian Church will host a free root beer float party
Kid's Veggie Toss Game — Throw a veggie bean bag at the garden target and win a prize
For Your Health — The Family Planning Council of Iowa will provide current health information about reproductive health care services
Cooking Demo — Chef Joe Godfroy is back with more easy fresh produce dishes and free recipes
For Your Health — Learn about services offered by the Iowa Family Violence Center
Free Craft Table for Kids — Market friend Karla Rice will shows kids how to paint a sun-catcher
Free face painting
Sweet Corn Festival- Chomp on a free, just-roasted ear of Iowa sweet corn
Kid's Veggie Toss Game