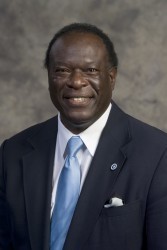 Dolph Pulliam
In the wake of pop star Michael Jackson's death Thursday, Dolph Pulliam, director of community outreach at Drake, told the Des Moines

Register about his friendship with Jackson. Read the
story
written by Drake alumnus Daniel P. Finney.
Jackson and Pulliam grew up in Gary, Ind. Pulliam, who recently was inducted into the Indiana Basketball Hall of Fame, was a standout basketball star and played ball with Jackson's older brothers at Roosevelt High School.
Pulliam later attended Drake and was on its 1969 Final Four team. After graduating from the University in 1969, he joined the KCCI-TV news team, becoming the first African-American broadcaster in Iowa.
Pulliam and Jackson crossed paths again in 1971 when the Jackson 5 was playing at the Iowa State Fair. At that time Pulliam was working for KCCI and he scored an interview with Jackson, who said he had always admired Pulliam.
Jackson asked him for his autograph and Pulliam obliged and received autographs from Jackson and his brothers in return.