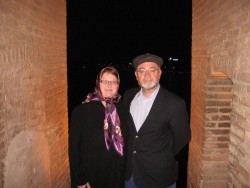 Karla Hansen and Ismael Hossein-zadeh stand on the almost 400-year-old Bridge of 33 Arches in the ancient city of Isfahan.
MEDIA CONTACT: Lisa Lacher, 515-271-3119, lisa.lacher@drake.edu
Local residents seeking a better understanding of Iran amid the riots following the country's disputed presidential election are invited to attend a free, public presentation about Iran at Drake University on Thursday, June 25.
Drake Professor of Economics Ismael Hossein-zadeh, an Iranian-born Kurd, and his wife, Karla Hansen, will share their observations from a recent seven-week visit to Iran. They will offer a rare view of Iran that Americans seldom see, including new revelations about the disputed election.
Their presentation, titled "Encountering Iran," will start at 7 p.m. in room 101 of Meredith Hall, 2805 University Ave.
Hossein-zadeh, author of "The Political Economy of U.S. Militarism," also will discuss the effects of United States-imposed economic sanctions on Iran and the Obama administration's foreign policy toward Iran.
Hansen, a central Iowa peace actvitist, will describe her first trip to Iran, including her experiences as the first American to visit remote Kurdish villages in northeastern Iran. The production of the documentary "Silent Screams" grew out of her encounters in Qarcheghah, one of the villages.
A preview clip of "Silent Screams" will be shown. There also will be a display of the nine-foot "Voices for Peace" banner that traveled to Iran and back with Hansen and Hossein-zadeh.
While in Iran, they visited many parts of the country and joined Iranians in dining, dancing, crying, laughing and leaping over fire in the Zoroastrian tradition.
"Encountering Iran" is sponsored by the Progressive Coalition of Central Iowa, a nonprofit organization.