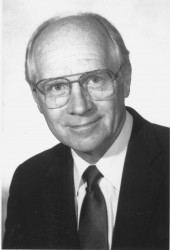 Mike Marty
MEDIA CONTACT: Tory Olson, 515-271-1834, tory.olson@drake.edu
Historian and former Drake University Dean of Arts and Sciences Myron "Mike" Marty will give a free, public talk at 2:30 p.m. on Saturday, June 27, at the Des Moines Public Library on his new book, "Communities of Frank Lloyd Wright."
During his Iowa visit, Marty will also return to Drake's campus on Monday, June 29, to lead a two-part discussion on President "Lincoln's Lifelong Learning."
The Drake event, which is a free class offered by Drake's RaySociety, will begin at 11 a.m. in the Cowles Library Reading Room, 28th Street and University Avenue.
The class, which is open to the public, with feature Marty's talk on "Abraham Lincoln — His Childhood Years through His Years as a Lawyer."
At noon, there will be a break for lunch. Participants may bring their own lunches or buy lunch from the Cowles Café or the grill outside the front entrance of the library. The class will continue at 12:45 p.m., with "Abraham Lincoln in Politics and as President." For reservations, call Rena Wilson at 515-271-2120.
Marty, professor emeritus of history at Drake, is the author of "Schooling in Lincoln's America and Lincoln's Extraordinary Self-Schooling," a chapter in "Lincoln's America, 1809-1865 (SIU Press, 2008).
He also published a review of the new Abraham Lincoln Presidential Library and Museum in Springfield, Ill., in the Summer 2006 issue of The Public Historian, the journal of the National Council on Public History, published by the University of California Press.
He has also written hundreds of book reviews, the majority of which have appeared in the St. Louis Post-Dispatch. He continues to review books for the St. Louis Post-Dispatch and the Taliesin Fellows Journal — the publication sponsored by the alumni of the Frank Lloyd Wright School of Architecture.
In addition, he has published several books, including the newly published "Communities of Frank Lloyd Wright: Taliesin and Beyond," as well as "Frank Lloyd Wright's Taliesin Fellowship," on which he and his wife, Shirley, collaborated.
Other published works include: "Daily Life in the United States, 1960-1990: Decades of Discord"; and "Nearby History: Exploring the Past Around You," which he co-authored with David Kyvig.
Marty served on the boards of the Frank Lloyd Wright Foundation and Taliesin Preservation Inc., and is a member of the board of the Abraham Lincoln Association and the Piatt County Museum.
In 1984 he joined Drake as dean of the College of Liberal Arts and Sciences and continued as dean of the College of Arts and Sciences from 1986 to 1994. In 1994, he was named the Ann G. and Sigurd E. Anderson university professor and professor of history until 2002.
He retired in 2002 and moved to of Monticello, Ill., where he lives now. He received the Drake Medal of Service in 2005.