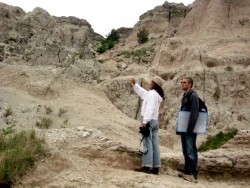 Angela Battle teaches a student during the recent course she taught in the Badlands this summer.
MEDIA CONTACT: Tory Olson, 515-271-1834, tory.olson@drake.edu
Angela Battle
, associate professor of art at Drake University, will serve as the new director of the University's Honors Program in the 2009-10 academic year.
Battle has taught several honors courses since coming to Drake in 2000, and said she is pleased to have been selected as the new director.
"I have a history of interest in interdisciplinary study being rather hybrid myself with education in both the biological sciences and art," said Battle, a resident of Woodburn, Iowa.
Battle will succeed Arthur Sanders, professor of politics and chair of the Department of Politics and International Relations. Sanders had directed the program since 2000, and he is credited with doubling the number of students who graduate with University honors.
"It was time to pass the program on," Sanders said. "I'm sure Angela will bring some changes to the program, and change can be a good thing."
Battle plans to learn the program from "the inside out" before making any modifications. "Innovations will occur incrementally," she added.
Battle also coordinates "Carbon," an annual spring exhibition of interdisciplinary exchange between students of the visual arts and professional arts. Students from all disciplines are encouraged to participate.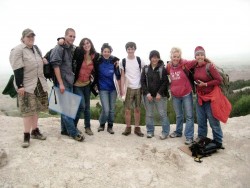 Eight students recently participated in Battle's "Walking: Making Art Out There" honors course.
Battle: dedicated to teaching outside the box
For the third year in a row, Battle held a summer honors travel seminar "Walking: Making Art Out There." The class of eight spent a week camping in the Badlands of South Dakota while creating paintings influenced by the wildlife and natural formations.
"The students were highly engaged and seemed to soak up the experience in all possible ways," said Battle. "We had some fascinating encounters with bull snakes, bison and owls."
Students slept in tents on dedicated campgrounds and cooked their own meals. Throughout the week the class hiked through the Badlands with paints and small canvases to paint aspects of their surroundings, including waking up at 4:30 a.m. to watch and paint the sunrise.
"We stood on top of a large rock formation to watch the sunrise," said Lauren O'Dell, a junior graphic design and computer science major.
"We were able to look straight down into the valley from there and it looked like a whole other world."