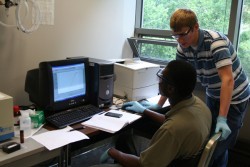 Sam Nkrumah-Agyeefi (seated) and Ryan Johnson (standing) during last summer's research in the lab.
MEDIA CONTACT: Tory Olson, 515-271-1834, tory.olson@drake.edu
Two Des Moines East High School students will again
collaborate with Drake University students and Mark Vitha, assistant professor
of chemistry, in Drake's chemistry research lab this summer.
The students' research is funded by a $6,100 grant by the
American Chemical Society, as part of Project SEED, which encourages
economically disadvantaged students to explore chemistry as a career option.
The grant allows students to work in the lab eight hours per day for eight to
10 weeks.
"The benefits of the program are that Drake gets two
intelligent, highly motivated students to help pursue a scientific research
project," Vitha said. "In return, the students get an opportunity to
apply what they are learning in their classes through a hands-on internship,
while interacting with college students in a college atmosphere."
The East students — Carolina Chavez, a junior who is
completing her second summer in the program, and Alma Marquez, a sophomore —
were selected by East chemistry teacher Maureen Griffin to work on the project.
"I want to do the program again because I loved how Dr.
Vitha teaches — I learned so much from those two months," Chavez said.
"The research helped me decide that I definitely want science in my
future."
Drake students Samuel Nkrumah-Agyeefi, a senior biochemistry
and molecular biology major from Ghana, and Ryan Johnson, a sophomore chemistry
major from Des Moines, also are participating for the second time, having
worked with Vitha and Chavez last summer.
Vitha will oversee the research project, which is designed
to understand the behavior of certain dyes in different chemical solvents, and
will help the students expand their understanding of the workforce.
The four students also will participate in the Drake
Undergraduate Science Collaborative Institute, a program designed to promote,
support and coordinate efforts to fund undergraduate research in math and
science.
For more information on Project SEED, visit the Web
site.