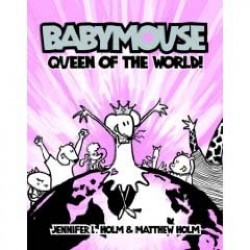 "Babymouse" is a graphic novel written by Matt Holm, co-presenter with Dr. Jill Johnson.
Dr. Jill Johnson, professor of education, made two separate presentations at the International Reading Association Conference in Minneapolis in May.
The first presentation was called "Using Graphic Stories in the Classroom" was a join presentation with Matt Holm, author of "Babymouse."
Later, Dr. Johnson also presented with JoEllen Latham on a research poster. This session was called "Dream Big: After School Supplemental Tutoring with at Risk Kids involved with I Have a Dream." The two professors reported data on the reading achievement of the students in the tutoring program that is a joint project between Drake and the Des Moines Public Schools.