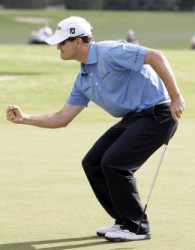 ALUMNUS ZACH JOHNSON ENJOYS VICTORY AT TEXAS OPEN
This month Zach Johnson, BN'98, won the Texas Open for the second time in his career.
The tournament wrapped up with a sudden death playoff between Johnson and fellow PGA player James Driscoll. Johnson successfully defended his title on the first hole with a 10-foot birdie putt.
Johnson earned $1.098 million for the victory, the largest payday in the history of the Texas Open.
"I feel very lucky," said Johnson, who now leads the season FedEx Cup standings and is currently ranked 19th in overall world golf rankings.
Johnson also won the Sony Open on January 18 in Hawaii.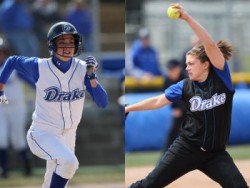 Bridget Shields and Brynne Dordel
FIVE BULLDOGS NAMED TO MVC SOFTBALL SCHOLAR-ATHLETE TEAM
Five Drake softball players have been named to the Missouri Valley Conference Scholar-Athlete team, highlighted by first-team selections junior outfielder Bridget Shields (Iowa City, Iowa/West) and sophomore pitcher Brynne Dordel (Chanhassen, Minn./Chaska).
Named to the honorable mention team were junior outfielder Kelsey Kahler (North Liberty, Iowa/Clear Creek-Amana) and sophomores designated player Erin Bly (Frankfort, Ill./Lincoln Way East) and pitcher Jenna DeLong (Dalton Gardens, Idaho/Coeur d'Alene).
Drake's five selections are the most in school history and the most of any MVC team this year. Dordel, Bly and DeLong are the only sophomore selections on the team.
Shields, who maintains a 3.93 grade point average in biology, was an ESPN The Magazine Academic All-District VII first-team selection earlier this year.
An accounting/management major, Dordel boasts a 4.00 grade point average. She appeared in 27 games this season. Dordel paced Drake to its first NCAA tournament appearance since 1994, winning three games at the conference tournament and receiving tournament MVP honors.
Kahler, who maintains a 3.77 grade point average in elementary education, started 49 of 52 games this season.
A first-team All-MVC selection, Bly maintains a 3.56 grade point average in politics. She led team with a .317 batting average (17th best in the MVC) and recorded 12 multiple-hit games and seven multiple-RBI games.
DeLong, the teams' top hurler, was a first-team All-MVC selection and received MVC Player of the Week honors May 4. Among MVC pitchers DeLong ranked in the top ten for seven categories.
DRAKE TO HOST TWO MVC CHAMPIONSHIPS IN 2009-10
The Missouri Valley Conference recently announced that Drake will host the 2009 State Farm MVC Men's Soccer Tournament and the 2010 State Farm MVC Softball Tournament.
The men' s soccer tournament will be played at the Cownie Soccer Complex Nov. 13-15.
After four straight years of a Wednesday-Friday-Sunday format involving all six tournament teams, the 2009 tournament will feature a four-team championship. The semifinals will be played at 3:30 p.m. and 6 p.m. on Friday, Nov. 13, and the televised championship game on Fox Sports is Sunday, Nov. 15. This will be the first time Drake has hosted the championship.
"Des Moines has really grown as a soccer hot spot in the last decade," said Drake head coach Sean Holmes. "The community has hosted a national youth championships, two regional tournaments and a PDL title game. We hope to build upon this and show off our program, our university and our community on national television."
Notably, should Drake not finish among the top four in the regular-season standings, the tournament site would be awarded to the highest seed of those teams that presented qualifying bids for the 2009 site (Bradley, Creighton or Evansville).
The 2010 State Farm MVC Softball Tournament will be played May 13-15 at Buel Field. Drake, as host institution, receives one of the tournament spots in the three-day, eight-team, single-elimination tournament. This will be the first time Drake has hosted the championship since 1993.
"Drake University is honored to host the 2010 Missouri Valley Conference Softball Tournament, " said Drake Athletic Director Sandy Hatfield Clubb. "The timing is perfect to provide a home-field advantage for the Drake squad that will be led by five senior team members."
ALUMNUS AND HISTORIAN BOB SPIEGEL DIES
FERNANDINA BEACH, FLA. – Former newspaper editor-reporter Bob Spiegel, FA'43, who wrote five books on Drake athletics, died at his home Monday. He was 87 years old.
Spiegel was a long time historian on the Drake Relays, having attended 64 Drake Relays.
He authored four books on the history of the Drake Relays: "The Drake Relays-50 Golden Years"; "Drake Relays/75 Years of Excellence"; "The Link/Drake Relays/Olympics"; and "The Drake Relays Centennial" published in April.
He also wrote a book on Drake's march to the 1968-69 NCAA Final Four Basketball Tournament titled, "Here We Go Bulldogs, Here We Go…"
Following military service, Spiegel was a reporter for the Des Moines Tribune for 19 years. He was editor of the Mason City (Iowa) Globe Gazette for 10 years and editor of the Wisconsin State Journal for 15 years.
"I think I speak for track and field enthusiasts around the country in wishing I had spent more time with Bob Spiegel," said Drake Relays director Brian Brown.
"Fortunately, Bob has given all of us much insight to his love affair with track and field through his books on the Drake Relays which will be part of his legacy.
"But his personality, integrity and his character will remain with us forever."