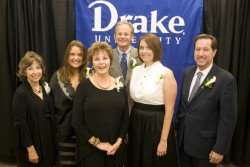 Maddy Maxwell, Carrie Blumenfeld, Joan Middleton, Richard Hartig, Jennifer Henderson and David Maxwell.
FIVE ALUMNI, THE MAXWELLS HONORED AT ANNUAL AWARD DINNER
Drake recognized these alumni, who accepted their awards during the program:
"The National Alumni Association Awards Dinner provides us the opportunity to celebrate the outstanding accomplishments of all of our alumni while recognizing the especially significant achievements of several individuals," said Blake Campbell, director of alumni and parent programs. "I am extremely proud of the talent and success of our Drake alumni."
In addition, a special program recognized President David Maxwell and Maddy Maxwell for their 10 years at Drake.
Rachel Manuel, JO'08 AS'08, spoke to the audience about the special bond that students and alumni have with the Maxwells.
"It is due to their leadership and support of students like me, that my peers and I have developed the skills to be leaders in our communities representing Drake with pride and honor," Manuel said. "On behalf of all of the students and future leaders that you've provided guidance to in your time at Drake, thank you and congratulations on your tenth anniversary as a Bulldog."
In addition, Steve Berry, AS'83, LW'86, was the emcee for the evening. He serenaded the Maxwells with his original lyrics celebrating their time at Drake to Nat King Cole's "Unforgettable."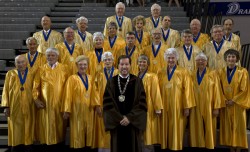 50 Year Club members gather with President David Maxwell at the undergraduate commencement ceremony.
Members of the class of 1959 celebrated their 50 Year Club Reunion with a weekend of activities May 15-16.
That Friday, alumni met for a luncheon and campus tour with Diane Caldbeck, associate vice president for alumni and development and director of major gifts. Later that day, new members of the 50 Year Club were inducted into the group.
New members gathered with veteran members to celebrate at a 50 Year Club Dinner at the Embassy Club in downtown Des Moines.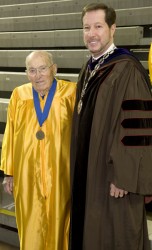 Paul Morrison, JO'39, and President David Maxwell
In addition, members of the class of 1949 and 1939 joined 50 Year Club members at the dinner to celebrate their respective class reunions.
50 Year Club President Jim Ewoldt, BN'58, and former chair of Drake's Board of Trustees, welcomed the crowd at the dinner.
On Saturday, members of the 50 Year Club made a bright entrance during the processional in the Knapp Center for Drake's 126th Undergraduate Commencement Ceremony. Drake athletic historian Paul Morrison, JO'39, led the group.
Later that day, members enjoyed a tour of the city of Des Moines and joined other alumni and friends of Drake at the National Alumni Awards Dinner on campus.
ALUMNUS NAMED CEO OF PELLA CORP.
Pella Corporation recently named Drake alumnus Pat Meyer, BN'87, GR'90, president and CEO to succeed Mel Haught who will retire Nov. 30.
Meyer, who joined the privately held, family-owned company headquartered in Pella, Iowa, in 1990, will now serve as executive vice president and COO until he takes on his new role Dec. 1.
A recent article in the Des Moines Register revealed that Meyer's management skills stem back to his days at Drake when he worked as a bartender at a local establishment. Meyer was praised by his former boss for being wise beyond his years.
Read more about Meyer in the entire article online.
Meyer is a native of Granger, Iowa, and serves on the Drake College of Business and Public Administration National Advisory Council. In addition, he's a graduate of Northwestern University's Executive Scholar Program in Marketing, and the Harvard Business School's General Manager Program.
Meyer most recently served as corporate vice president, overseeing operations of EFCO, A Pella Company, and the company's operations in Wylie, TX, and its Project Management Office.
"Pat is an effective leader who has performed well in a variety of roles with the company across the country during his impressive career," Haught said. "I've always admired the way Pat has demonstrated a positive 'can do' attitude and I know he'll guide the Pella team to continued business success in his new role."
Meyer has management experience in sales, marketing, operations, finance and manufacturing. He is expected to bring continuous improvement to his expanded leadership role.
"Pella Corporation is a great company and I've welcomed the opportunity to lead a number of areas of the business during my career here," Meyer said.
"I'm looking forward to working together with our team members to focus on building Pella Corporation's industry leadership in residential and commercial markets by delivering innovative products and services to meet the needs of our customers for new construction as well as remodeling and replacement applications," he added.
Cowles Library recently launched an online version of Drake's Yearbooks — the Quax — as part of its Heritage Collections.
"The Web site allows readers to search or browse across decades of Drake University's history," said Bart Schmidt, assistant professor of librarianship and digital projects librarian. "This is an ongoing project with the hope to soon have all classes through 1994 represented."
The purpose of the Drake Heritage Collections is to collect, digitize and preserve important stories of Drake University's 125-year history.
Photographs and articles are scanned and oral histories from eyewitness accounts are recorded. These collections are presented online to reach the largest possible audience.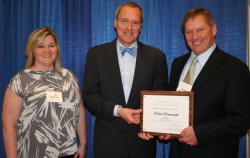 Stacie Papineau, director of the Iowa Chapter of Children's Advocacy Centers, Dean Charlie Edwards and Robert Ravenscroft.
BUSINESS SOCIETY HONORS ALUMNUS FOR PUBLIC SERVICE
Drake University alumnus Robert Ravenscroft has received the 2009 Distinguished Alumnus Award from Drake's chapter of Pi Alpha Alpha — the national honor society for public affairs and administration.
Ravenscroft graduated from Drake in 2007 with a master's degree in public administration and has since served as president of Mercy Foundation at Mercy Medical Center in Des Moines.
He was honored at a recent luncheon. Drake Pi Alpha Alpha chapter President Stacie Papineau presented the award, which recognizes Ravenscroft for his scholarship, leadership and excellence in his career and in public service.
Ravenscroft previously served as director of external relations for Mary Greeley Medical Center and director of development for the University of Iowa Foundation. He received his bachelor's degree from the University of Iowa in 1988.
Pi Alpha Alpha is a professional education association dedicated to the advancement of education, training and research in public policy and administration. Drake University has been a founding chapter since 1974.