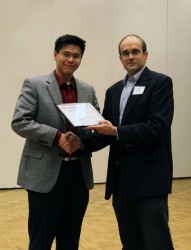 Bao Vu and Ronald Torry, professor of pharmacology at Drake.
Drake University graduate Bao Vu recently won first prize of $100 in a poster competition at the 14th annual Iowa Physiological Society (IPS) meeting, hosted by Drake University.
The poster titled, "Bile Salts and Candida Albicans…How Much Do We Know?", provided a summary of research Vu conducted as an intern at Des Moines University (DMU).
"A lot of time and work went into this research," said Vu, who graduated from Drake this month and attended the May 2 conference. "I was happy to win first place."
Vu came up with the idea to study the effect of stomach bile on fungial microorganisms after conducting a scientific literature search. He found an article that claimed bile was harmful to fungial physiology. However, this claim is contrary to the fact that the microorganisms are known to survive in the human gastrointestinal track, where bile is abundant.
Vu then proposed to conduct research that would investigate the effects of bile on fungial morphological and growth changes and worked with Dr. Bryan Larsen, dean of university research for DMU, and his assistant, Michael Essmann.
Larsen praised Vu for his work ethic and innovation in the lab.
"The number of experiments, the number of repetitions and the diversity of laboratory techniques used in pursuing this project was far beyond what many undergraduate students are willing to take on," Larsen wrote.
"Bao has positioned himself nicely for future successes in biomedical research and has, through his initiative and dedication, become a serious contributor to a scientific advancement."
Vu says he plans to continue working in Larsen's lab for the next year, and then apply to graduate school for the 2010 school year.
The IPS meeting showcased the work of students at all levels of collegiate study.