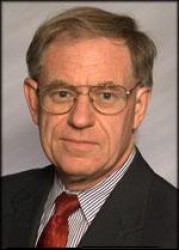 Ron Troyer
At a special celebration last month as friends and colleagues spoke about Drake University Provost Ron Troyer, he laughed and grinned knowing his legacy and impact at Drake isn't over yet.
View a photo gallery of the event online.
After nine years of service as provost, Troyer will hand over his reins to new Provost Michael J. Renner on June 1, then begin his new role as senior counselor for international initiatives.
He plans to continue to work at Drake part-time for two years. His focus will be on the Strategic Plan 2008-2012 and its goals to enhance global learning and expand cultural learning opportunities for students, faculty and staff.
In his last weekly "Announcements" message, Troyer thanked faculty and staff members for their dedication to Drake and kind words and wishes for his retirement.
Most important, Troyer wrote about the hard work that has been done and the challenges ahead:
"The past nine years have not been easy. They were bearable because we shared the common goal of creating a better university. Drake University in 2009 is substantially different than it was in 2000 and the positive changes are largely the consequence of your efforts.
"My hope is that the faculty and staff of Drake University continue to take the initiative and responsibility to shape the institution for the future remembering that the first priority is to provide an exceptional learning experience for students."
During last month's reception, many of Troyer's friends and colleagues shared memories and told stories about Troyer and his work.
Some memorable comments were:
"Ron Troyer brought to the role of provost at Drake University an impressive — and formidable — combination of personal attributes, experience and insight. As the University's chief academic officer, he led the way in ensuring the integrity and quality of Drake's most important characteristic: an exceptional learning environment."
"Ron also brought impressive breadth of vision — the ability to focus with great intensity on the present, while never losing sight of the traditions of the past that define us or the vision of the future that drives us forward."
— Drake President
David Maxwell
"Today I have a chance to thank Ron. For myself, for the years of colleagueship and friendship.
On Behalf of the Council of Deans — for your leadership, guidance and mentoring. Your integrity consistently has guided all we do. Your leadership has kept us focused on the needs of the University and our students. Your support has allowed us to grow and be effective.
On Behalf of the Provost's Office — Thanks for an indisputable commitment to excellence and unflagging support for those working with you to achieve that goal. We have learned and laughed and been lucky to have you as our colleague and leader."
—
Sue Wrigh
t, associate provost
"Ron Troyer has been an unmistakable force to reckon with in matters of the administration of our academic lives here at Drake. In his focus on and dedication to what it is that our university should be most fundamentally about: namely, reaching for the highest standards in learning, thinking, and inquiry that prevailing realities will allow, with no or minimal intrusions from interests that always compete with these standards for dollars, time and attention, he has no peer. The positive difference that Ron Troyer has made here is truly hard to over-state. It has been transformative. His is an amazing legacy."
—
Joseph Schneider
, the Ellis and Nelle Levitt professor of sociology
In addition,
John Burney
, vice provost for academic affairs, and
Charles Nelson
, associate professor of physics and astronomy, serenaded Troyer with a song, "A Provost named Ron (with apologies to Johnny Cash and 'A Boy Named Sue')."
Read lyrics to the song online.