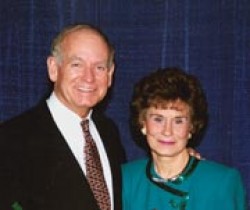 The RaySociety is named after former Iowa Gov. Robert and Billie Ray
The Billie and Robert D. Ray Lifelong Learning Society at Drake University will hold its annual Year End Celebration and Annual
Meeting at 3 p.m. Wednesday, May 27, in Sheslow Auditorium in Old Main,
2507 University Ave.
A reception will follow at 4 p.m. in Levitt Hall in Old Main.
All RaySociety members and prospective members are welcome to
attend the annual meeting and reception, which are free and open to the
public. Reservations are requested. For reservations, call 515-271-2120
or send an e-mail to rena.wilson@drake.edu.
The RaySociety offers social activities and classes on a variety of
topics for people of retirement age who are interested in learning in a
college atmosphere.
The organization is named after a pair of distinguished Drake
alumni: former Iowa Gov. Ray, who also served as the University's president, and
Billie Ray, former first lady of Iowa and a former schoolteacher.
The RaySociety's annual membership fee is $50 (June 1-May 31). Most
classes cost $25 each. For more information about the RaySociety, visit the RaySociety Web site or call 515-271-2120.