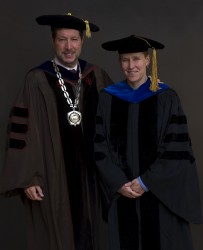 Drake President David Maxwell and Jennifer Harvey at the undergraduate ceremony last weekend.
MEDIA CONTACT: Lisa Lacher, 515-271-1834, lisa.lacher@drake.edu
Jennifer Harvey, assistant professor of religion and ethics
at Drake University, recently was honored as this year's Madelyn Levitt Mentor
of the Year — Drake's most prestigious award for mentors.
The annual award recognizes faculty and staff who exhibit
outstanding commitment to student success in and out of the classroom, as well
as integrity in personal relationships. The honor was presented at Drake's
128th Undergraduate Commencement Ceremony on Saturday, May 16.
Harvey was praised for her rapport with a variety of
students, including advisees, religion majors and students majoring in law,
politics and society. She has served these students as both a teacher and
mentor since she joined the Drake faculty in 2004. Drake's Board of Trustees
recently granted tenure to Harvey and approved her promotion to associate
professor for the 2009-10 academic year.
"Contact with professors outside of the classroom is a
critical part of students' education," Harvey said. "The opportunity
to sit and talk with a faculty member who is invested in their success and well-being
makes a world of difference in the quality of the experience students have in
their college years."
In a number of recommendations, students cited her courses
in liberation theologies as some of the most challenging, but most rewarding
classes offered at Drake. Her teaching has been described as enthusiastic,
inspirational and highly relevant.
Both in and out of the classroom, Harvey has been noted for
her kindness and professionalism in working with students.
"Dr. Harvey is one of few people who never measured my
capability of success based on my race, socioeconomic status or background,"
one student wrote in a letter of recommendation. "I have always felt
comfortable talking about my past, present and future with her because she
looks at me as a person, not as a circumstance or statistic."
In addition, Harvey often mentors individuals within the
lesbian, gay, bisexual, transgender community, having served as faculty adviser
for Rainbow Union, Drake's organization for LGBT students and straight allies,
from 2004 to 2008. In this role, she hosted a party for the union in her home
and organized a faculty question-and-answer panel night for students each
semester.
"While I am not a counselor or therapist, I see myself
playing a critical role as mentor to these students," Harvey said.
"Having myself gone through the process of coming out, and having
experienced the vulnerabilities and uncertainties that come with that process,
I am particularly attuned to the struggles these students face."
Whether a teacher, adviser or friend, Harvey's success can
be seen across campus in the lives of her students. Colleague Jennifer
McCrickerd, associate professor of philosophy, summed up Harvey's impact as
follows:
"For the students Jennifer mentors, the evidence of her
success may not be that they've gotten into a prestigious graduate program, but
that they have chosen a major they love, that they are proud of their
accomplishments, that they have goals for after graduation. It's that they feel
less alone in the world."