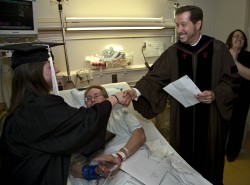 Drake President Maxwell reaches across Glenn Koenen's hospital bed to congratulate Cassaundra Koenen on her graduation.
Drake University senior Cassaundra Koenen missed the Undergraduate Commencement Ceremony Saturday morning because her father, Glenn Koenen, suffered a heart attack in the stands
at the Drake Knapp Center about a half hour before the ceremony, which began
at 10 a.m.
Drake staff members, along with an emergency room nurse and a doctor in the audience, came to Glenn Koenen's aid.
Annie
Swanson, an ER nurse at Hennepin County Medical Center in Minneapolis,
was there to watch the graduation of her niece, Molly Rafmussen.
"I
was four rows in front of him and someone yelled 'Is there a nurse or
doctor?' So I turned around and hopped over the bleachers and went over
to him," Swanson said.
"He was sitting next to his wife and he
was hunched over the seat in front of him. I asked what his history was
and his wife said he'd had cardio surgery before. I lowered him to
ground and felt for a pulse and there was no pulse, so I gave him CPR.
"He
was dead and had no pulse, but I gave him CPR and chest compressions
for about two minutes and he started to wake up and then the
defibrillator came."
Drake staff members Michael Ball and Matt
Miller hooked up Drake's
automated external defibrillator with the expert assistance of Dr. John Kuhnlein, an Ankeny physician in the audience who rushed over to help. The defibrillator advised administering a shock and Kuhnlein pressed the button to deliver the shock.
Campus Security Supervisor Mark Risvold had called 911 to request an ambulance, which soon arrived and transported Glenn Koenen to
Mercy Medical Center, where he's being treated in the Coronary Critical Care
Unit and is expected to undergo bypass surgery.
"It went pretty smooth even though there were so many
people and not much room," Swanson said. "We just improvised and I'm so
glad he lived."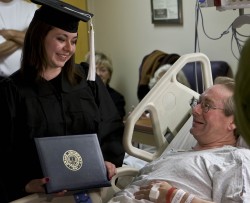 Cassaundra Koenen shows her diploma case to her father.
Nurses at Mercy later contacted Drake officials
to see whether someone could present Cassaundra Koenen's diploma to her at
the hospital because her father felt he had spoiled her graduation and
wanted her to get her diploma.
Drake President David Maxwell went to the hospital, donned his
academic robe and
formally presented the diploma to Cassaundra Koenen as she stood at her father's beside.
Maxwell was accompanied by Joe Lenz, dean of the College of Arts and
Sciences, and Tom Delahunt, vice president for admission and financial
aid.
Cassaundra Koenen has earned a bachelor's degree in graphic design in
Drake's College of Arts and Sciences. She plans to return to her
hometown of St. Louis with her family once her father recuperates from
surgery.