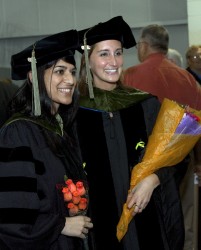 More than 1,500 undergraduate and graduate students celebrated their commencement rites of passage at Drake University's graduation ceremonies last Friday and Saturday.
Friday's Drake Law School Commencement recognized 143 law graduates and 134 pharmacy graduates were honored at the annual Hooding Ceremony for Pharmacy Graduates.
In addition, Jill Swenson, recipient of the University's Oreon E. Scott Award for the most outstanding senior, gave a commencement address.
Later that afternoon, graduate students collected their diplomas at Drake's Commencement Ceremony for Graduate and Doctoral Degree Recipients, which featured a talk by Drake Board of Trustee member Suku Radia, CEO and president of Bankers Trust Co.
There are many inspirational stories among these graduates in the class of 2009. Here are a few of them.
Charlie and Richard Hartig.
Pharmacy graduate to keep up family tradition
Charlie Hartig knew what he was getting into on Friday, May 15, at Drake's Doctor of Pharmacy Hooding Ceremony.
During the ceremony, he recited the Oath of a Pharmacist — administered by his father, Richard Hartig — and will continue the Hartig legacy at Drake that his family knows so well.
"This is a special opportunity that not many pharmacists get to experience," Charlie said. "I am proud to receive the pharmacy oath from a person I know attempts to live up to the oath everyday…I have big shoes to fill with several generations of pharmacists in the family."
Charlie is the fourth Hartig to graduate from Drake. Richard and his brother, Bill, and their father, Kenneth, graduated with pharmacy degrees in 1973, 1977 and 1940, respectively.
"It is an honor to administer the oath to the graduating seniors and new members of the profession, but the meaning to me is a little more personal because one of those graduates is our son, Charlie," Richard said. "This a very special moment…and a sacred rite of passage."
Charlie, who chaired the College of Pharmacy and Health Sciences' Honor Code Committee, graduated with a Doctor of Pharmacy degree. He plans to practice pharmacy while continuing his education at Saint Louis University Law School, pursuing a law degree with a certificate in health law.
He is a resident of Dubuque, Iowa, the home of his family's Hartig Drug Stores — America's second oldest continuously operated family drug chain. The Hartigs have owned the company for 105 years caring for patients in Iowa, Illinois and Wisconsin.
When asked if he will join the family business, Charlie said, "I hope to continue on in the family business and I look forward to working with and enhancing the legacy of Hartig Drug. The company and what it stands for makes me particularly proud to be a Hartig family pharmacist."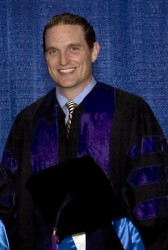 Darren Harkins
Former NYPD firefighter aims to use his law degree to help Iowans
Darren Harkins isn't the typical Drake University Law School graduate. The New York City native is 38 and worked as New York City police officer for two years. He then served for 10 years as a FDNY firefighter, was promoted to lieutenant and helped with rescue and recovery efforts during the 9/11 terrorist attack.
"The graduation ceremony is a jumping off point for me, and my professional career as an attorney is starting," said Harkins, who also holds a bachelor's degree in political science and history from the State University of New York, Binghamton.
He graduated in December and already has passed the Iowa Bar Exam, been sworn in as a practicing attorney and established his own law practice in the Des Moines area. New furniture was just delivered last week to his office at 8450 Hickman Road in Clive.
Harkins came to live in Iowa in 2006, when he moved here with his wife Kaylene from Nevada, Iowa. The two met when Harkins visited the state for the annual RAGBRAI bike tour in 1999. She moved to New York City in 2000 and they got married in 2003.
Harkins said he always wanted to go to law school and knew Drake was a good fit for him because of its size and reputation for its faculty-student ratio that lends itself to close relationships.
"My whole life, I have chosen to work in public service," said Harkins, who also worked at the Legal Clinic through Drake's clinical program. There, he helped people with various challenges and that experience inspired him to focus helping people through civil practice.
Although he won't be battling fires and carrying people to safety, Harkins said he knows he can count on his new career to help him continue to find "fulfillment in helping people."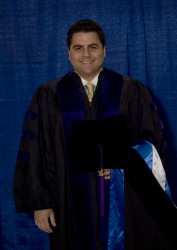 Emiliano Lerda
Law student finds famous bridges led him to Drake diploma
Drake law graduate Emiliano Lerda needs no more proof that following your heart can lead to success. Inspired by Clint Eastwood's film "The Bridges of Madison County," Lerda first traveled from his hometown in Cordoba, Argentina, to Iowa because of his dedication to a high school sweetheart.
Lerda, 28, who graduated in December, has spent nearly 10 years away from his hometown of Cordoba, first coming to Iowa in October 1999 because of a personal connection to the movie's love story.
"I wanted to do something important for someone else that said how much that person meant to me," Lerda said, "but I used learning English as an excuse to visit Iowa because my parents would not have paid for me to go see bridges."
Lerda made his way to Madison County while enrolled in a three-month English course at the University of Northern Iowa (UNI). He intended to return to Argentina in December 1999, but changed his plan after he fell in love with the warm and welcoming Iowa community.
Lerda graduated from UNI with a bachelor's degree in communications in 2004, which later led him to Drake Law School in 2006.
"It doesn't make any sense, but this crazy thing changed my life in a million ways because I followed my heart," Lerda said.
Now Lerda, who was granted U.S. citizenship about a month ago, is pursuing a Master's of Law in agricultural law at the University of Arkansas, including a research assistantship.
However, he is keeping his ties to Iowa by serving a three-year term with both the Iowa Commission on Volunteer Service and the Generation Iowa Commission. He also maintains permanent residence in Iowa and will return full-time after he graduates from the University of Arkansas in December 2009.
According to Lerda, there are many similarities between Cordoba and Iowa — both are small towns in rural areas with friendly people. However, the agricultural lifestyle of the Iowa community does not make up for the challenge of being away from his family.
"It doesn't get any easier to be away from family and friends. Time passes, people get older and I wonder how many times I will see them again," Lerda said.
He has visited Cordoba at least once a year since he moved in 1999. His parents, Victor and Adriana, also traveled to Iowa to attend his wedding and graduation in 2004 and plan to visit again for his University of Arkansas graduation ceremony in May 2010.
Carla Dawson
Teacher earns degree after 12-year college journey
After 12 years of taking classes, working full-time and raising three children, Carla Dawson, 43, has earned the honor of being the first one in her family to graduate from college with a bachelor's degree.
"I'm more excited than words can tell," said Dawson of Des Moines, who is the youngest of eight children and earned a bachelor's degree from Drake University in education with endorsements in reading and special education last weekend.
She started her college education at Des Moines Area Community College in 1988, but then dropped out due to family responsibilities.
Ten years later she returned to DMACC and earned her associate's degree in 2004. She began taking classes full-time at Drake in January 2007 — when she left her job at North High School where she served as a study hall associate to go to school full-time. She also worked at Moulton Elementary School as a family advocate for Head Start for 11 years.
Then, she began Drake's Teacher Quality Program, which places teachers in Des Moines Public Schools and aims to increase diversity among educators within the school district. It is funded by a federal grant and provides graduates with four years of certification coursework.
"I felt like it was an omen, and that I was meant to do it," said Dawson, who will be one of nearly 30 people to complete the TQP program since its creation in 2006.
She said she couldn't pass up the program's free tuition, books, laptop computer and insurance, in exchange for doing what she loves — teaching.
"It's been a hard road," she said. "A long road. But this is what I want to do with my life. I want to teach."
On top of her already busy schedule, Dawson has been involved with the Des Moines Catholic Worker Community, Legal Aid Society and National War Resistors Board in New York City.
In the next few months, she will find out where she will teach within the Des Moines schools.
She planned a huge celebration last weekend with Drake's Undergraduate Commencement Ceremony and a party at Union Park on Saturday. Her family and friends came from across the Midwest and beyond to help her celebrate.
She credits her supporters, especially her sister and Drake employee Jackie Robinson, for helping her get to where she is today. "I've had a lot of help from family, friends, teachers and my own students. I truly feel blessed."