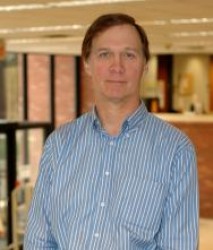 Karl R. Schaefer
CONTACT: Tory Olson, 515-271-1834, tory.olson@drake.edu
Karl R. Schaefer, Drake University professor of librarianship, has been granted a Fulbright Scholarship to conduct research on engaging readers and building collections at the Bibliotheca Alexandrina — the largest and most prestigious library in Egypt.
Recipients of Fulbright awards are selected on the basis of academic and professional achievement, as well as demonstrated leadership potential in their fields. The Council for International Exchange of Scholars administers the Fulbright Scholar Program. For more information, visit http://exchanges.state.gov.
Schaefer, who joined the Drake faculty in 1995, is coordinator of library instruction and an expert in teaching students how to effectively use research libraries.
Since 2001, he has taught a two-credit information literacy course and been responsible for selecting materials for several interdisciplinary programs, such as Latin American Studies, African and African American Studies, Native American Studies and Women's Studies.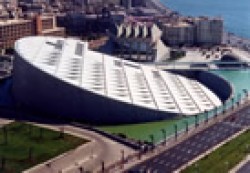 The Bibliotheca Alexandrina.
Schaefer plans to travel this fall to Alexandria, Egypt — home of the
Bibliotheca Alexandrina. During his four-month grant program,
Schaefer's primary goal will be to establish two workshop programs for
librarians and other staff members at the Bibliotheca Alexandrina.
The first workshop will evaluate and recommend ways to improve
Alexandrina's practices in library-user training with the goal of
increasing information literacy and user access to electronic
resources.
The second workshop will assist with developing collections in
interdisciplinary fields of study in light of financial and logistical
concerns, which include limited budget, increased demand and
government-regulated access to printed materials in Egypt.
In addition to the workshops, Schaefer will facilitate individual
seminars on specific topics. He will give lectures, assign readings and
lead discussions about developing improvement strategies.
"My intent is not to be prescriptive," Schaefer said. "I expect to
spend much of my time listening and learning from my Egyptian librarian
colleagues who no doubt have already given much thought and energy to
addressing these issues.
"My role in this position is that of a person who serves as a
resource for technical assistance and who can offer a disinterested
perspective on existing practice," he added.
Schaefer projects the strategies developed through the workshops
and seminars eventually will be implemented in libraries across Egypt
and the Middle East.
While in Egypt, Schaefer also will travel to Cairo and possibly
other locations to further his research on the history of Arabic
printing. His research focuses on medieval Arabic block printing and he
is the author of "Enigmatic Charms: Medieval Arabic Block Printed
Amulets in American and European Libraries and Museums." He plans to
present an illustrated lecture on his updated findings after he returns
from Egypt.
Schaefer has traveled and studied extensively in the Middle East,
including Egypt, Syria, Jordan and Israel. He speaks and writes Arabic,
German and Hebrew. Plus, he reads French and Persian (Farsi).
He holds a bachelor's degree in political science from Union
College and an M.A. and Ph.D. in Near Eastern Languages and Literatures
from New York University. He also received a Master of Library and
Information Science degree from the University of Oklahoma.