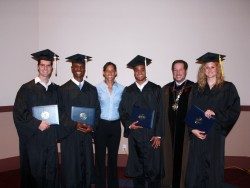 From left: Leyden Tolhurst, Marcus Gaines, Head Track Coach Natasha Kaiser Brown, Nate Hix, President David Maxwell and Kate Long.
Four members of Drake University's track team were honored Tuesday in a special commencement ceremony for student-athletes who will be unable to attend Saturday's Undergraduate Commencement Ceremony.
The seniors will miss graduation because they will be competing in the State Farm Missouri Valley Conference Outdoor Track and Field Championships Friday through Sunday in Terre Haute, Ind.
Drake President David Maxwell donned his cap and gown for Tuesday's ceremony in Levitt Hall in Old Main, which was attended by coaches and staff members.
"Recognizing the importance of commencement to seniors and their families, and knowing how hard our student-athletes have worked in all aspects of their lives at Drake, we want to be sure that we recognize in an appropriate way the accomplishments of today's honorees," President Maxwell said.
"As graduates," Maxwell added, " this is an occasion for each of you to reflect on where you've been, what you have achieved, and how far you have yet to travel. You can take justifiable pride in your academic success, as well as your athletic accomplishments, and I am delighted to congratulate each of you."
President Maxwell then formally bestowed baccalaureate degrees upon the four students:


Marcus Gaines

, graduating with a bachelor's degree in marketing and management. A native of Aurora, Colo., he has been a finalist in the long jump, 100 and 200 meter sprints as well as the 4×100 and 4×400 meter relays at the Missouri Valley Conference Championships. He was voted team captain for four years and is the current indoor school record holder in the long jump. He hopes to qualify for his third NCAA Regional Championships. Gaines also was active on the Student Athletic Advisory Council and, in his junior year, served as vice president of the Coalition of Black Students. He also has served as a big brother and a volunteer with the Des Moines Marathon. He hopes to land a position with one of the four companies with which he has scheduled interviews.

Nate Hix

, graduating with a bachelor's degree in marketing. A native of Nerstrand, Minn., Hix made an immediate impact as a sprinter in his first year at Drake. Capable of running several events, he emerged as a key leg on the 4×100 and 4×400 meter relays, as well as in the open 100, 200 and 400 meter races. He has been a Missouri Valley Conference scorer in the 400 and in both the 4×100 and 4×400 meter relays. He is well respected by his peers for his character and integrity and was voted team captain. He plans to continue his education in graduate school.

Kate Long

, graduating with a bachelor's degree in psychology and a minor in neuroscience. A native of Herscher, Ill., Long began her athletic career at Drake on the volleyball team, but later joined the track and field program, where she flourished as a sprinter, a heptathlete and a 400 meter hurdler. She has brought discipline, enthusiasm, unity and motivation to the squad. She also found time to be an active member of Kappa Kappa Gamma sorority and Psi Chi, the psychology honor society. Long plans to continue her education by studying clinical psychology in graduate school at Rosalind Franklin University.

Leyden Tolhurst

, graduating with a bachelor's degree in accounting. He came to Drake as a transfer student from Auckland, New Zealand, and competed in cross country and indoor and outdoor track as a distance runner. At the 2009 Missouri Valley Conference Championships, Tolhurst ran anchor leg on the winning distance medley relay and placed second in the mile. He also was a top three finisher for the past two years in the Drake Relays 1,500 meter race. He ranks in the top five all time Drake performers in the indoor mile and 3,000 meters. Having recently qualified for the NCAA Regional Championships, he will compete in Oklahoma later this month for a chance to earn a bid to the NCAA Championships in June.
President Maxwell concluded the ceremony by congratulating "these new alumni of Drake — the first official graduates of the class of 2009." He added that, "We wish you and your teammates the very best in your competitions."