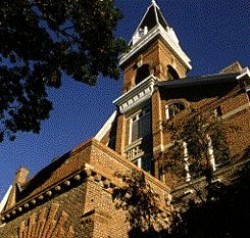 The 10th anniversary edition of the Drake Undergraduate Social Science Journal featuring Drake students' research recently was published and now is available online.
"The student-run journal, which has highlighted nearly 60 student papers over the years, showcases some of the best research that Drake undergraduates have accomplished in the social sciences," said Glenn McKnight, associate professor of history and faculty adviser for the journal.
Highlighted papers from this year's issue are:
"The Doha Development Round and International Food Aid" by Steven Anderson

"Ukraine Under Stalin: Was the Great Famine a Genocidal Act?" by Owen McMullen

"Institutional Maintenance on the United States Supreme Court" by Michael J. Nelson

"Get Over the Past: An Empirical Study of the Chinese Government's Changing Rhetoric on China-Japan Historical Disputes" by Sheng Peng

"United Nations and Haiti: UNDP, MINUSTAH, and Civil Society" by Sarah Schwid

"Sexuality and Power in Pornography" by Caitlin Thornton
"The journal also is edited by a board composed of exemplary students from across the social sciences," McKnight added.
This year's editors are:
Oluwole Aluko-Olokun

Keenan Cutsforth

Stephanie Day

Mark Micheli

Anna Rice

Marina Yakhnis