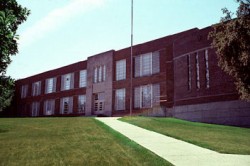 Drake students interacted with students at Windsor Elementary School.
Business students build 'Bookworm Boxes' with grade schoolers
Nearly 100 Drake students teamed together to volunteer time to read to elementary students and help them get organized.
The "Bookworm Boxes" project, which was part of the College of Business and Public Administration's Student Advisory Group's annual service project, took Drake students to Des Moines' Windsor and Madison elementary schools for a day last month.
"The Drake students were very enthusiastic and gave my kiddos very much needed one-on-one time to talk and work on a project," said Jo Walker, first grade teacher and dean of students at Madison. "Half of my students are English language learners so it was very beneficial for them to have the opportunity to use their English skills."
The initiative paired Drake students with grade schoolers, and the groups of two put together supply boxes for each elementary student. The boxes, which students decorated together, were created to house students' coloring books and supplies, pencils, school projects, books and more.
"It was encouraging for our Madison students to meet a large group of college students to give them an idea of what college is like, and that they too, can go to college," said Walker of Des Moines, who has worked at Madison for 22 years.
"I think this project was beneficial for everyone," said first-year Drake student Brendan Sheehy, an actuarial science and finance major from Cedar Rapids, Iowa. "We had a great time with the project and I hope this becomes an annual event that continues to grow and reach out to more students and schools."
Sheehy, who spearheaded the project, serves as a representative on the Dean's Student Advisory Board as the community outreach coordinator.
The project was made possible through a grant from Drake's Engaged Citizen Experience program. This year's theme for the Engaged Citizen program is: "Poverty, Development and Social Responsibility: Whose World is it Anyway?"
The program aims to inform students on global issues and help them understand the ways in which citizens can confront these challenges through democracy.