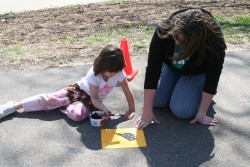 Lauren Kahlon gets some assistance from Drake senior Leah Tran.
Students develop wildlife mural at Gray's Lake Park
A group of Drake seniors hope to raise environmental awareness in the Des Moines community with the creation of a wildlife mural along Gray's Lake Park's Kruidenier Trail.
The Connecting to Nature: Community Eco-Mural project features images of birds, butterflies, tree rings and animal tracks. The flora and fauna depicted on the trail are native to central Iowa and often can be seen by visitors at the park.
The public art installation will remain on the trail surface throughout the summer months.
The project is part of the students' senior capstone project in Drake's Environmental Science and Policy Department.
They began painting butterflies at the west end of the trail's bridge on April 7 and continued the project with the help of the general public and students attending Scavo Alternative High School during a kick-off event at the park on April 14.
Scavo teachers Suzet Nelson and Ellen Robinson coordinated the opportunity for students in art, environmental science or neighborhood revival classes to earn credit toward graduation through contribution to the project.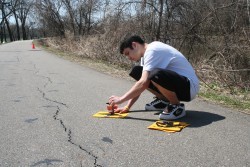 Scavo junior Nick McCann paints birds on the trail.
Nick McCann, a junior at Scavo, said that his environmental science class is learning about species and the cultures of animals. He hopes that the project will bring awareness of the animals around Gray's Lake Park.
"Hopefully, when people are walking around the lake, they'll think about the animals more and be able to observe them in their natural environment," said McCann.
Elizabeth Kahlon and her daughter, Lauren, 3, were two of the first community members to help paint.
"She's been wanting to paint at home, so now she's finally getting her chance," said Kahlon of her daughter. "Now, every time we come to the lake to ride bikes or walk, we can see the bird she painted — it's the one next to the big eagle."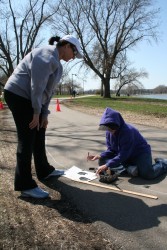 Des Moines residents Terry Baker and Pat Huffman paint deer tracks on the trail.
Des Moines Parks and Recreation developed informative displays and brochures about local wildlife for the project and the Drake students are developing a Web site to provide more information.

"The park's Kruidenier Trail will be used by hundreds of thousands of people in the next few months," said Teva Dawson, Gray's Lake Park Manager. "If we can educate them about the natural resources around them, they may develop an appreciation of the ecology and wildlife they might see in all of our Des Moines parks."
The Drake seniors who conducted the project are:
Leah Tran – Des Moines, major in environmental science

Tara Lange – Orion, IL, majors in drawing, field ecology and nature illustration

Nina Gray – Rockford, IL, double majors in environmental science and anthropology

Rachel Zieske – Eden Prairie, MN, double majors in environmental science and environmental policy
"I'm from Des Moines," Tran said, "but I'm finding this is a whole different way to experience Gray's Lake Park. I'm amazed at the many types of butterflies you can see here. This project is a great way to make people aware of the many other species that also use the park."