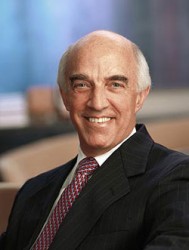 Donald H. Fletcher
BOARD OF TRUSTEES GAINS NEW CHAIR AND NEW MEMBERS
Drake University's Board of Trustees recently elected a new chair — Donald H. Fletcher — and two new members — Richard "Dick" Hartig and Kermit S. Sutton. All three are Drake alumni.
Fletcher, who began his three-year term as chair on April 24, retired in 2005 as president of the personal expression group at Hallmark Cards Inc. He chaired the company's business leadership council and oversaw all aspects of Hallmark's North American and international businesses. He also served on Hallmarks' corporate executive council.
He earned his bachelor's degree in general business from Drake in 1967 and joined Hallmark the same year. He held various product and marketing positions within the Hallmark and Ambassador brands, advancing to president of the personal expression group in 1997.
Fletcher has been a Drake trustee since 2004, the same year he received Drake's Alumni Achievement Award for his accomplishments in business and community service. He lives in Liberty, Mo., and is former president of the Liberty Lions Club and past president of the Liberty Hospital Foundation. He also serves on the Baker University President's Advisory Council and the Entrepreneurship Council at Washington University.
Fletcher succeeds Drake Board of Trustees Chair James W. Hubbell III, chairman of Hubbell Realty Co.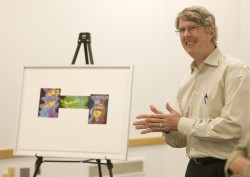 James W. Hubbell III with the print he received from the board.
Board members and Drake President David Maxwell recently honored
Hubbell for his distinguished service to the board. They presented him
with a framed proclamation and a colorful print created by Weiwei
Zhang, a sophomore graphic design major from Chengdu, China.
The proclamation noted that Hubbell has given generously of his
time, energy and leadership skills since he joined the Board of
Trustees in 1984. He also was recognized for strengthening Drake's
endowment, generating additional funds for student financial aid and
faculty and staff salaries.
Both Hartig and Sutton will serve three-year terms on the Board of
Trustees, which meets four times yearly and serves as the University's
policy-making and governing body.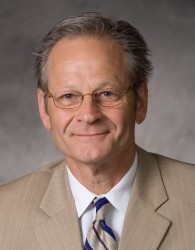 Richard "Dick" Hartig
Hartig is CEO of Hartig Drug Co., which is based in Dubuque, Iowa,
and operates traditional drug stores and a long-term care pharmacy.He earned his bachelor's degree in pharmacy from Drake in 1973 and
his MBA from Drake in 1981.
Hartig has long been recognized as an
entrepreneurial leader in pharmaceutical care, emphasizing active
patient care by pharmacists.
He received the Lawrence C. and Delores M. Weaver Medal of Honor
from Drake's College of Pharmacy and Health Sciences in 2006. He also
will accept Drake's Distinguished Service Award — the highest honor
bestowed on Drake alumni — at the annual Alumni Awards Dinner on
Saturday, May 16.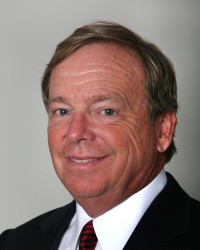 Kermit S. Sutton
Sutton, a 1974 graduate of Drake Law School who lives in Naples, Fla., has owned and operated the Sutton Co. since 1990.
He began his legal career in 1974 as an associate at the
Whitfield & Eddy PLC law firm in Des Moines. In 1978 he became a
partner in the firm, then served as of counsel from 1989 to 1991. He
also was a member of the Board of Directors of Palmer Communications
Inc. from 1978 to 1994 and Palmer Wireless from 1994 to 1997.
In addition, Sutton has been active in Drake Law School, serving on the Board of Counselors since 2006. He has also served his community as a board member of the Naples Community Hospital, Community School of Naples and currently serves as a trustee of the Conservancy of Southwest Florida and as chairman of the Naples Committee for the Heritage Foundation.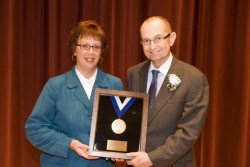 Dean Raylene Rospond and Lon Larson
WEAVER MEDAL RECIPIENT LON LARSON SHEDS LIGHT ON LIVING AN ENJOYABLE LIFE
Upon receiving one of Drake University's highest honors, Professor Lon Larson spoke to a crowd of nearly 500 students and colleagues about what's made his life so meaningful — "Giving Back."
"Alma mater — fostering mother: this is a very apt description of the role that Drake University has played in my life," said Larson, a 1972 Drake graduate and professor in the College of Pharmacy and Health Sciences since 1991.
After thanking his family, colleagues and those involved with the Lawrence C. and Delores M. Weaver Medal of Honor, Larson encouraged the members of the audience — especially students — to give back to Drake.
"I believe the primary way we give back to our alma mater is the manner in which we conduct our lives — especially our professional lives," said Larson, the Ellis and Nelle Levitt distinguished professor of pharmacy administration.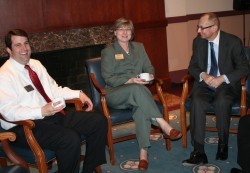 Lon Larson (right) laughs with colleagues Craige Wrenn and Jane DeWitt at a coffee reception before the Weaver Lecture.
"I believe the primary way we give back to our alma mater is the manner in which we conduct our lives — especially our professional lives," said Larson, the Ellis and Nelle Levitt distinguished professor of pharmacy administration.
Larson said he hopes all Drake graduates work for the good of others, show professionalism and are reflective practitioners and engaged citizens.
He traced the pharmacy profession to 1949 when the College of Pharmacy and Health Sciences opened Fitch and Harvey Ingham halls during an era of influential faculty who laid the foundation for the college today.
Although the profession has evolved, Larson said the inscription on a plaque donated by the graduating class of 1949 — including alumnus Larry Weaver for whom the Weaver Medal is named — still rings true today.
The plaque says, "It is no small matter to know that upon your skills and knowledge, a life may depend."
Larson said, since the roles of pharmacists have changed from focusing on compounding and dispensing of drugs to patient care, pharmacists should get involved, ask questions and know their job is "no small matter."
Larson's impact at Drake and on others is certainly no small matter, either.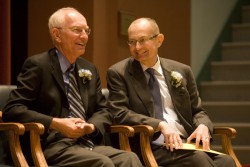 Richard Morrow and Lon Larson (right) chat before the lecture.
"Lon Larson has given extensive, valuable time to the profession, the college and the University," said Richard Morrow, the Ellis and Nelle Levitt distinguished professor of pharmacology. "He personifies the concept of a servant leader…He is a fearless leader."
Larson: dedicated to his profession and teaching
Larson received the 10th Weaver Medal — established by Lawrence Weaver, dean emeritus of the University of Minnesota College of Pharmacy, and his wife, Delores.
He is the only member of Drake's faculty and staff to have twice received the Madelyn M. Levitt Mentor of the Year Award. He was first honored with the award in 1997 and then again in 2007. Larson also has received Alumni Achievement Awards from both Drake and the University of Mississippi.
He earned his bachelor's degree in pharmacy from Drake and went on to receive an M.S. and Ph.D. from the University of Mississippi in Health Care (Pharmacy) Administration. He worked in regional health planning and health insurance before beginning his academic career at the University of Arizona.
Larson has served on the Board of Directors of the Iowa Pharmacy Association and of its subsidiary PNI Inc.
He is also a fellow of the American Pharmacists Association and a member of the Academy of Managed Care Pharmacy and the American Association of Colleges of Pharmacy.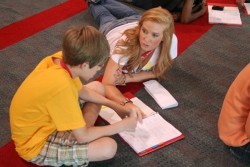 SuperCamp has graduated more than 48,000 students worldwide in 26 years.
INNOVATIVE SUMMER CAMP TO RETURN TO DRAKE CAMPUS THIS SUMMER
This July, Drake University will welcome back two residential summer programs for middle and high school students operated by SuperCamp — an educational leader in learning and life skills.
SuperCamp made its debut at Drake last summer, reporting an outstanding success with 80 high school and 36 middle school students in residence. Other host sites around the nation are Stanford University, Cornell University, Wake Forest, University, University of Washington, Colorado College and California State – San Marcos.
SuperCamp will hold the 10-day junior and senior programs concurrently on the Drake campus from July 12-21.
Students at SuperCamp engage in experiential exercises, dynamic mental and physical challenges, and team problem solving. Studies of SuperCamp graduates show positive results in the areas of increased grades, improved student motivation and higher levels of self-confidence and self-esteem.
High school students in the Senior Forum will focus on three main academic rotations: reading, writing and SAT/ACT preparation.
Middle school students in the Junior Forum also participate in academic rotations, as well as interactive group activities, which include non-verbal communication, smart stations and state management.
SuperCamp was co-founded in 1982 by Bobbi DePorter, president of Quantum Learning Network. SuperCamp's Quantum Learning educational methods also are used in schools nationwide by teachers trained in this methodology.
SuperCamp has graduated more than 48,000 students worldwide in 26 years. Based on accelerated learning methods, SuperCamp prepares students for success with valuable learning and life skills that they apply at school and in their personal lives.
For more information or to enroll for SuperCamp at Drake,
visit the Web site
or call 800-285-3276.