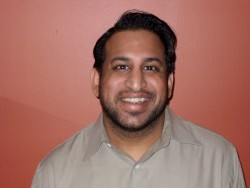 Swarup Metha
DRAKE ALUMNUS HONORED FOR AIDS HEALTH CARE ADVOCACY
Swarup Mehta, PH'02, GR'02, has been named Outstanding Health Care Advocate of the Year by the AIDS Legal Council of Chicago for his work in pharmacy with patients living with HIV/AIDS. He was one of six advocates recognized this year by the council at the annual awards in Chicago.
Mehta is the clinic pharmacy manager for Walgreens at Northstar Medical Center in Chicago, a private medical facility for patients with HIV/AIDS. The award commends him for demonstrated excellence in providing compassionate medical care to people with HIV.
"My patients have so much going on in their lives without having to worry about receiving their medication month after month," Mehta said.
"My job is to make it as easy as possible for my patients to get their medications and remain compliant. I'm proud I've been able to build relationships with my patients and that they trust me with their health care," he added.
As is evident in Mehta's nominations for the award, he has gained the trust, respect and admiration of both his patients and colleagues.
"From my first meeting with Swarup, I felt that he wholly complemented my treatment and would give the comfort and assurances to me that I needed," said one of Mehta's patients. "My questions were always answered with complete understanding, patience and compassion."
A colleague at Northstar said, "Physicians depend on pharmacists like Swarup to help avoid drug interactions, handle insurance and drug formulary issues and assist with clinical decisions. As experts in drugs and drug therapy, they also are needed to provide information and support to better serve patients, especially those with HIV."
In addition to his work as a pharmacist, Mehta is an educational speaker and the vice president of the board of directors for Test Positive Aware Network, a Chicago agency devoted to HIV-related services.
The AIDS Legal Council of Chicago exists to preserve, promote and protect the legal rights of men, women and children living with HIV in the metropolitan Chicago area. The council provides legal services to people in need, educates the public about HIV-related legal issues and advocates for the fair treatment of those affected by HIV and AIDS.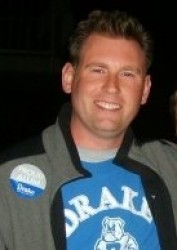 Dan Yamnitz
Dan Yamnitz, JO'00, recently appeared on the game show "Deal or No Deal" and won $41,000.
The episode aired on April 21 and Yamnitz opened 22 cases before making the "deal" for $41,000.
He said if he won the top prize of $500,000, he would buy his favorite bar near his alma mater. He wasn't allowed to say the name of the establishment on the show, but after disclosed: "It was the Library Café."
Yamnitz of Godfrey, Ill., tried out for the prime-time version of the show three years ago in St. Louis. Out of more than 7,000 contestants, he made it through several interviews to the final group of four before he was told that he wasn't chosen for the show.
"I was mad, and I didn't watch the show for two years," said Yamnitz, who works as a project supervisor at Yamnitz and Associates, a construction company, in Fieldon, Ill.
However, last summer, he received a call from producers asking if he was interested in being a contestant. They explained that the show was going into syndication and that episodes would air every weekday as opposed to only once a week.
The show was taped in September 2008 in Los Angeles.
Yamnitz began with Case 11, and after he was chosen to compete for the money, switched to Case 22 — his high school basketball number.
After that, his strategy was entirely spontaneous.
"I didn't really even pay attention to what numbers I was opening," he said. "When they offered me $15,000, they let me call my wife, and she said 'Go for it.'"
With four cases left, Yamnitz's offer stood at $41,000, and he made the deal to take the money. If he would have chosen one more case, he would have been offered $101,000.
Still, he said he is happy with his decision to make the deal.
At the end of the episode, Yamnitz told the studio audience that even though he didn't win enough to buy the bar, drinks were on him if anyone happened to be in Des Moines.
It just so happened that the episode aired during the week of Drake Relays, when many Drake alumni reunite on campus.
"Everyone's been saying, 'Drinks are on Dan!' but I haven't even gotten the money yet!" Yamnitz said.
He will receive the prize money this summer — 90 days after the show airs.
PLAN TO TAKE DRAKE READERSHIP SURVEY, ENTER PRIZE DRAWING
Get involved! Take a short readership survey about Drake publications and e-communications and provide your contact information to enter a drawing for a special gift ($200 value) from the Alumni office. Access the survey today at
www.drake.edu/alumni/survey
.
The survey will take only a few minutes to complete and individual survey comments will be kept confidential. We appreciate your time and willingness to give your feedback.