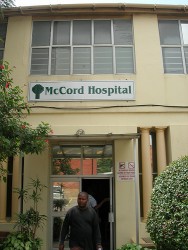 McCord Hospital in Durban will receive more than $2,500 from the Drake community.
CONTACT: Lisa Lacher, 515-271-3119, lisa.lacher@drake.edu
Drake University professors recently proved you can have a good time in honor of a good cause, raising more than $2,500 at a local benefit for McCord Hospital in Durban, South Africa.
A tasting of Iowa wines was held in the home of Drs. Michelle and Dave Zgarrick, the John R. Ellis distinguished chair of pharmacy practice at Drake. The event featured a wide selection from Summerset Winery in Indianola. Tickets sold for $75 per person, with the proceeds going to Friends of McCord, a registered charity.
John Rovers, Drake professor of pharmacy and health sciences, spearheaded the initiative, alongside Beth Manthey, a junior biology and neuroscience double major from Littleton, Colo., and Geoff Wall, Drake associate professor of pharmacy practice.
Drake's College of Pharmacy and Health Sciences has partnered with McCord since 2006, using the hospital as a clinical rotation site for Drake pharmacy students. Drake has sent seven pharmacy students to South Africa since 2006 and several were assigned to McCord Hospital.
"Raising money for McCord is a wonderful cause," Manthey said. "They do so much to help the pharmacy program and they are working for change in an area where it is most needed."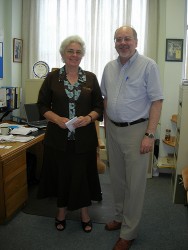 John Rovers meets with Dr. Helga Holst, CEO of McCord Hospital, during a visit to Durban.
As 2009 marks McCord Hospital's 100th anniversary, Rovers saw an
opportunity for Drake to join in the celebration of the milestone with
a contribution to the hospital's building campaign fund.
"When you see the list of accomplishments McCord Hospital has been
able to achieve in its first 100 years, you know the value of helping
the hospital carry on its work for the next century," he said.
The facility now holds 142 beds and handles approximately 15,000
outpatient visits per month. The funds raised by Drake will go towards
building new facilities to accommodate the growing need for health
care.
"The success of the event was fantastic. At first, we were hoping
for anything over $500, just to send something," Manthey said. "You
can't imagine the joy of having everything work out this well."
There's still time to join in Drake's effort to help McCord
Hospital. Anyone interested in making a contribution should contact
professor Rovers at 515-271-4981 or john.rovers@drake.edu.
For more information about McCord Hospital, visit its Web site.