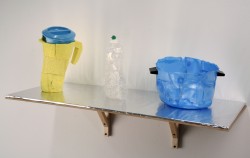 "Maladjusted Series," 2008 by Nicki Werner. Wood and found objects.
"Handful," a thesis exhibit displaying the artwork of five Drake University seniors, opened April 26 and continues through May 8 in the Anderson Gallery of Harmon Fine Arts Center, 25th Street and Carpenter Avenue.
The exhibit features a range of works in various mediums by:

Brenna Buckner

of Lawrence, Kan., a graphic design major with a concentration in sculpture

Kelly Donovan

of Rockford, Ill., a graphic design and sculpture double major

Anthony Bruce Roark

of Jefferson, S.D., a sculpture and graphic design double major

Hunter Seutjens

of Pine City, Minn., a graphic design major with a concentration in drawing

Nicki Werner

of St. Louis, a sculpture and art history double major with a concentration in printmaking
The students chose "Handful" as a title because it presents a variety of interpretations, all helpful in creating a context for viewing the work. The title draws associations to labor, the number of fingers on a hand, a method of measuring, etc.
The Anderson Gallery is open from noon to 4 p.m. Tuesday through Sunday.
For more information about the exhibit, contact Heather Skeens, director of the gallery, at 515-271-1994 or heather.skeens@drake.edu.