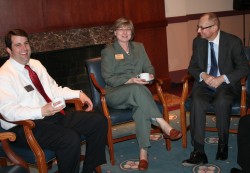 Lon Larson (right) laughs with colleagues Craige Wrenn (left) and Jane DeWitt (center) at a coffee reception before the Weaver Lecture.
Upon receiving one of Drake University's highest honors, professor Lon Larson spoke to a crowd of nearly 500 students and colleagues about what's made his life so meaningful — "Giving Back."

"Alma mater — fostering mother: this is a very apt description of the role that Drake University has played in my life," said Larson, a 1972 Drake graduate and professor in the College of Pharmacy and Health Sciences since 1991.
After thanking his family, colleagues and those involved with the Lawrence C. and Delores M. Weaver Medal of Honor, Larson encouraged the members of the audience — especially students — to give back to Drake.
"I believe the primary way we give back to our alma mater is the manner in which we conduct our lives — especially our professional lives," said Larson, the Ellis and Nelle Levitt distinguished professor of pharmacy administration.
Larson said he hopes all Drake graduates work for the good of others, show professionalism and are reflective practitioners and engaged citizens.
He traced the pharmacy profession back to 1949 when the College of Pharmacy and Health Sciences opened Fitch and Harvey Ingham halls during an era of influential faculty who laid the foundation for the college today.
Although the profession has evolved, Larson said the inscription on a plaque donated by the graduating class of 1949 — including alumnus Larry Weaver for whom the Weaver Medal is named — still rings true today.
The plaque says, "It is no small matter to know that upon your skills and knowledge, a life may depend."
Larson said, since the roles of pharmacists have changed from focusing on compounding and dispensing of drugs to patient care, pharmacists should get involved, ask questions and know their job is "no small matter."
And Larson's impact at Drake and on others is certainly no small matter, either.
"Lon Larson has given extensive, valuable time to the profession, the college and the University," said Richard Morrow, the Ellis and Nelle Levitt distinguished professor of pharmacology. "He personifies the concept of a servant leader…He is a fearless leader."
Larson: dedicated to his profession and teaching
Larson received the 10th Weaver Medal — established by Lawrence Weaver, dean emeritus of the University of Minnesota College of Pharmacy, and his wife, Delores.
He is the only member of Drake's faculty and staff to have twice received the Madelyn M. Levitt Mentor of the Year Award. He was first honored with the award in 1997 and then again in 2007. Larson also has received Alumni Achievement Awards from both Drake and the University of Mississippi.
He earned his bachelor's degree in pharmacy from Drake and went on to receive an M.S. and Ph.D. from the University of Mississippi in Health Care (Pharmacy) Administration. He worked in regional health planning and health insurance before beginning his academic career at the University of Arizona.
Larson has served on the Board of Directors of the Iowa Pharmacy Association and of its subsidiary PNI Inc.
He is also a fellow of the American Pharmacists Association and a member of the Academy of Managed Care Pharmacy and the American Association of Colleges of Pharmacy.