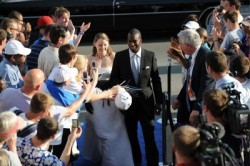 Michael Johnson, named the Drake Relays Male Athlete of the Century, walks the blue carpet during a special gala Thursday night.
It was a kick off unlike any other the previous 99 Drake
Relays had seen.
They rolled out the blue carpet Thursday night honoring
the greatest track and field stars America's Athlete Classic has ever seen.
In conjunction with the 100th running of the Drake Relays,
20 athletes of the century were saluted before a crowd of more than 3,000 fans
at the Drake Knapp Center. Read more about the event in a Des Moines Register story by Drake alumnus Daniel Finney.
It started with a grand gala entrance the likes of Des
Moines hasn't seen in quite a while.
Athletes were paraded in front of the Knapp Center in
antique cars, greeted by hundreds of fans and then walked along a 50-yard blue
carpet to the entrance to the building.
"This is the track Oscars," said 2008 Olympic
hurdler Lolo Jones, who was one of 20 athletes honored.
Together, the entire group of Drake Relays Athletes of the
Century combined to win 99 individual Drake Relays titles, while setting 41
Drake Relays records in the process.
The public will have another opportunity to see the track
stars, when their plaques are unveiled on the west concourse behind Drake
Stadium at 11:50 a.m. Friday.
Larry Rawson, lead track and field analyst for ESPN,
served as master of ceremonies during the 90-minute program which featured
video highlights of each of the honorees.
"The Drake Relays was a place I loved to run,"
said Olympic gold medalist Calvin Smith, a former world record holder in the
100. "I always got motivated to perform my very best at Drake."
Dignitaries included Iowa Governor Chet Culver and Doug
Logan, chief executive officer of USA Track and Field.
"It is so wonderful to be back," said Gwen
Torrence, who was selected as the Female Athlete of the Century. "How
could anything be better than this. It is great to see so many familiar faces
like my brother Michael (Johnson) and my sister Natasha (Kaiser Brown who was a
teammate on the 1992 U.S. Olympic team which won a silver medal)."
Torrence was a five-time Olympic medalist, winning
three gold medals in the 200 (1992) and 4×100 relay (1992, 1996). She
also earned a silver medal, running on the 4×400 relay which was second at the
1992 Olympics and a bronze medal in the 100 at the 1996 Olympics.
Torrence burst on to the scene at the 1984 Drake Relays.
She went on to win more Drake Relays career titles (eight) than any female
performer.
"I could always gauge how my season was going to go
by how I did at Drake," added Torrence, who won more Drake Relays career
titles (eight) than any other female athlete. "If I performed well at
Drake, my season would also go well."
"The Drake Relays was very special as a college
athlete," said Johnson, honored as the Drake Relays Male Athlete of the
Century. "I was impressed the first time I came here as a freshman at Baylor
that the people in Des Moines would know who I was."
A three-time Olympian, Johnson won four gold medals. He is
only athlete in history to win the 200 and 400 at the same Olympics,
accomplishing the feat in 1996 when he set a then world record in the 200
(19.32).
He also owns the current world record in the 400 of 43.18
in 1999. He became the only man to repeat as Olympic 400 champ when he won gold
in 2000. Johnson accumulated nine gold medals at world championships, the most
of any athlete in history.
Johnson captured six individual Drake Relays titles, while
anchoring Baylor to four relay victories. (special 200-1988, 1992, 1993, 1997; special 400-1991, 1996). He ran anchor legs on
Baylor's winning 4×200 (1987, 1990) and 4×400 relays (1989, 1990) at the Drake
Relays.
He still owns Drake Relays records in the men's special
200 (20.05, 1997) and 400 (44.41, 1996).
"This is a great honor. I probably ran here more than
any other meet in the country," Johnson added.