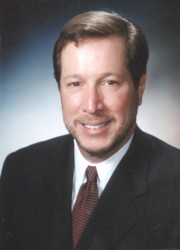 Drake President David Maxwell
Today's opening ceremony for the 100th running of the Drake Relays in Drake Stadium featured a letter full of best wishes from United States President Barack Obama.
Drake University President David Maxwell read the letter on behalf of President Obama and the White House.
The letter, which was signed by President Obama, reads as follows:
"THE WHITE HOUSE
WASHINGTON
April 24, 2009
I send my warmest greetings to all who are attending and competing in the 100th Annual Drake Relays.
Over the years, the Drake Relays have celebrated and showcased the athletic prowess of men and women from across the country and around the world. This hallmark event has become an American tradition of track and field's spring season. I anticipate impressive feats, edge-of-your-seat finishes, and a steadfast admiration for the accomplishments of these finely conditioned competitors.
Whether you are a participant or an observer, I hope you all will gain a broader appreciation for the skills and talents others have to share. I wish you all the best, and I hope you enjoy the event."