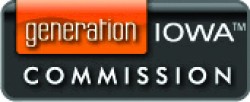 CONTACT: Erin Seidler, 515-242-4805
On Monday, April 27, from 11 a.m. to 2 p.m., the Generation Iowa Commission will have a booth at Drake University to promote career opportunities in Iowa for graduates. At the booth, located in Helmick Commons, students also may register to win a free iPod Touch.
"With graduation just around the corner, searching for jobs can be a scary prospect. College students may be surprised to learn Iowa may just have the career opportunities they are looking for," said Generation Iowa Chair Rachel Judisch.
"Our state currently finds itself with the challenge of keeping our educated young adults. The Generation Iowa Commission is dedicated to making recommendations that will to attract, retain and engage the next generation of Iowans."
On April 5, 2007, Iowa Gov. Chet Culver signed HF 617, better known as the "Generation Iowa" bill, into law. The commission was established to advise and assist in the retention and attraction of young adults to Iowa.
The 15-member Generation Iowa Commission has released two annual reports that include a sweeping list of recommendations aimed at taking full advantage of Iowa's "brain gain" and making Iowa a destination and a home for future generations.
For more information, visit the Generation Iowa Commission Web site.