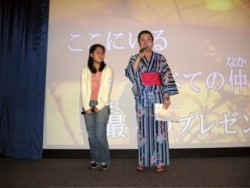 Students perform at last year's Japanese Karaoke Night.
CONTACT: Tory Olson, 515-271-1834, tory.olson@drake.edu
Students who are learning Japanese in Drake University's
Language Acquisition Program, will participate in the program's fourth annual
Karaoke Night on Wednesday, April 22.
The event, which will begin at 5 p.m. in Bulldog Theater
in Olmsted Center, 2875 University Ave., is free and open to the public. Other
singers are invited to participate as well.
For more information, contact
Chinatsu Sazawa at 515-271-4992 or
chinatsu.sazawa@drake.edu.