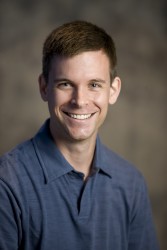 Michael Haedicke
CONTACT: Tory Olson, 515-271-1834, tory.olson@drake.edu
Michael Haedicke, Drake University assistant professor of
Sociology, will present a talk titled, "Haunting the Market: Political
Consumerism and the Ghost of Marx" On Friday,
April 17.
The presentation, which is free and open to the public
will begin at 3:30 p.m. in the Honors Lounge of Medbury Hall, 2730 Forest Ave., will
conclude the Drake University Center for the Humanities Colloquium series.
In this talk, Haedicke will draw on interview data from
this research to explore in detail how one particular member of the organic and
fair trade industries speaks about the social and environmental goals of her
work.
His analysis suggests that the work of Karl Marx
illuminates a dilemma in fair trade efforts: the difficulty of using markets to
change the experience of workers' alienation.
Haedicke is a professor in the Department for the Study of
Culture and Society. He came to Drake in fall 2008 from his Ph.D. at the
University of California, San Diego, and teaches courses on the Sociology of
Food and the Environment, Social Movements and the Sociology of Work.
His dissertation research examined how members of the
organic foods industry create compromises between two potentially contradictory
models of organization: one that stems from the counterculture of the 1960s and
1970s and a second that has more in common with the rationalized organizations
that prevail in the mainstream food industry.
For more information on the lecture, contact Joseph
Schneider at 515-271-2158 or joseph.schneider@drake.edu.