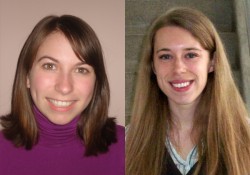 Alexa Horwart and Amy Benes
Drake University graduate Alexa Horwart and senior Amy Benes recently were selected to receive Fulbright Grants for the 2009-10 academic year to teach English to students in Indonesia and South Korea, respectively.
Horwart of Burnsville, Minn., and Benes of Downers Grove, Ill., who will graduate from Drake in May, are two of five Drake students who reached the final stages of the scholarship application process. The three other finalists for Fulbright grants are still pending.
"Eight current or former students applied for Fulbright scholarships this past fall — a record for Drake," said Eleanor Zeff, Fulbright program adviser and associate professor of politics and international relations.
Drake recently was ranked 13th out of 22 top producers of Fulbright Awards (2008-09 academic year) for U.S. students for a master's institution, according to the Chronicle of Higher Education.
Horwart: a journalist dedicated to making a difference
Horwart, who graduated from Drake last December with bachelor's degrees in broadcast news journalism and international relations, will depart for the program in August and go through a two-week orientation in Jakarta.
She said she is looking forward to spending nine months in another country and immersing herself in its culture.
However, being out of her comfort zone is something she's already experienced. In 2007, Horwart was on the scene of the Interstate 35 Minneapolis Bridge collapse during a reporting internship and helped survivors to safety and collected their stories.
"I believe that to be a good journalist I need to experience things that take me out of my comfort zone…" she said. "I also believe that all good journalists need to experience living abroad and looking back at the United States through the critical lens of another country and culture."
She said she chose to apply to a Muslim country because of her belief that positive cross-cultural exchanges are especially important now between the United States and Muslim countries.
When asked about her future, Horwart said she hopes to make a difference and the Fulbright program is a step in the right direction. "I will either go to law school or graduate school with the intention of becoming a human rights activist and advocate," she said. "I know this Fulbright will be a great stepping stone for opportunities in my future."
Benes to bring passions and Drake experiences to South Korea
After gradation, Benes will leave for South Korea in July for a six-week orientation program. At the orientation, she will take English teaching classes as well as introductory courses to Korean culture.
"Teaching and learning are synonymous in nature; you cannot have one without the other," said Benes, who has had experience in tutoring and teaching English to African refugees.
Benes said she looks forward to bringing English and American culture to the students, and gaining a deeper knowledge and understanding of Korean culture and language.
While overseas, she will live with a host family and teach at an institution outside of Seoul from August to June and will receive a monthly living stipend.
She said some of her goals are to:
be an outstanding teacher to her students
use her interest in music to study Korean dance
study Korean consumers and apply this knowledge toward marketing in America
use passion for running to found a running club to promote camaraderie, self-discipline and confidence to its members
"I am very excited and honored to have this wonderful opportunity," said Benes, who is on schedule to receive bachelor's degrees in marketing and management. "My hope is that I adequately represent the United States and that I contribute to my students, host family and community."
The Fulbright application process for the 2010-2011 year will open at the end of April and runs through October 2009.