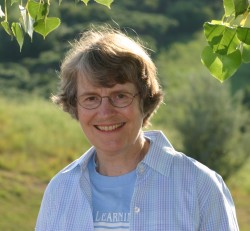 Connie Mutel
Natural history author Connie Mutel will give a lecture at Drake University on Tuesday, April 7, based on her most recent book, "Emerald Horizon: The History of Nature in Iowa."
The event is free and open to the public and will begin at 3:30 p.m. in room 206 of Olin Hall, 1344 27th St.
"The Emerald Horizon: The History of Nature in Iowa" explores how Iowa's natural features and their ecological functions have evolved through time, and how both have been modified during the last two centuries by intensive human use.
The book and her earlier natural history books, including "Fragile Giants" and "The Tallgrass Restoration Handbook," grew from her love of Iowa and her involvement in protecting and restoring the state's natural features.
Mutel is completing an edited volume on the science of the 2008 floods in eastern Iowa, to be published this coming summer.
She is an historian and archivist at the University of Iowa and its IIHR-Hydroscience and Engineering lab. She also writes on environmental and climate change issues for the University of Iowa's global change institute.
The lecture is sponsored by Drake's History Department, Environmental Science and Policy Department, the Drake Environmental Action League and the Drake Center for the Humanities.
For more information on the lecture, contact Amahia Mallea, visiting assistant professor of history, at
amahia.mallea@drake.edu
.