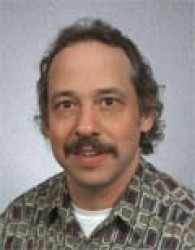 Dana Yoerger
Dana Yoerger, a deep-sea robotics scientist, will give a lecture at Drake University Wednesday, April 8, focusing on remote-controlled robotic vehicles, such as the vehicle that explored the Titanic wreckage.
The Ridge 2000 Distinguished Lecture, titled "Exploring the Deep Sea with Robots," will begin at 4 p.m. in room 206 of Olin Hall, 1344 27th St. The lecture comes to Drake by support from the National Science Foundation. It is free and open to the public.
In his talk, he will discuss the basic types of robotic vehicles and their underlying technologies, which include navigation and control systems. He also will describe the Titanic discovery cruise, the mapping of ancient shipwrecks in the Mediterranean and the importance of international cooperation.
Yoerger, who has been to the seafloor six times in the vehicle that explored the Titanic wreckage in 1986 — the DSV Alvin — also helped develop the control system for an underwater remote-controlled vehicle (the Jason).
In addition, Yoerger will explain his work with the
Nereus
, a new deep-sea vehicle developed at Woods Hole that will have the capability to explore the deepest parts of the seafloor both as an autonomous robot and as a remotely operated vehicle.
Scientists plan to use it to explore remote, difficult-to-reach areas, including under the Arctic ice cap.
He will close the presentation by speculating about how these systems will evolve in the future.