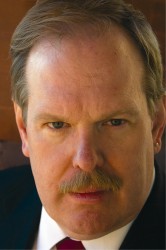 Bruce Perry
CONTACT: Lisa Lacher, 515-271-3119, lisa.lacher@drake.edu
Drake University teaching artist Bruce Perry, baritone, and pianist Michelle Havlik-Jergens will present "Did I Say That?" on Friday, April 3, at 8 p.m. on the Jordan Stage in Sheslow Auditorium in Old Main, 2507 University Ave.
The recital, which is free and open to the public, features musical settings of words that perhaps should not have been spoken.
The program includes "Seven Presidential Pardons," in which Gary Bachlund combines his natural music wit with quotations from the last seven U.S. presidents.
Also on the program is Francis Poulenc's "Chansons Gallard," which Perry said is "best described as statements one would never make when sober!" Poulenc's musical settings of the playful French texts were inspired by ribald 17th century poetry.
Perry and Havlik-Jergens also will perform German pianist Robert Schumann's famous "Dichterliebe," in which the composer combined his pianistic expertise with Heinrich Heine's love poems to create a musical drama about unrequited love. In what is perhaps the most famous song cycle of all time, Schumann tragically recounts his frustrations and failures when pursuing and wooing Clara Wieck, his eventual wife.
Perry maintains an active musical schedule as a studio teacher, conductor and performer. As a singer, Perry has performed in recital, opera and oratorio. He has a passion for 20th Century art song.
At Drake, he teaches studio voice and vocal literature, plus he is coaching "Gianni Schicchi" this semester. He also conducts the Fort Dodge Choral Society in four different concert programs each year. In addition, he serves as worship and music coordinator for Grace Lutheran Church in Fort Dodge, Iowa, and is chair of worship in music for Iowa Choral Directors Association.
As a teacher, he works with many of the area's finest singers; more than 40 of his former students are pursuing careers in the musical world. As a pianist, Perry has performed throughout the Midwest and in Brazil. He holds degrees in piano and vocal performance from Luther College and the University of Iowa.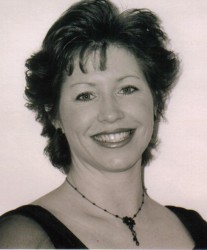 Michelle Havlik-Jergens
Havlik-Jergens is a staff accompanist at Drake. As a student of Drake
Professor Emerita Chiu-Ling Lin, she earned a Bachelor of Music in piano pedagogy from Drake. She has been a soloist with the Drake,
Wartburg College and Fort Dodge symphonies and twice won the Top
Keyboard Artist Award in Iowa.
She also serves as the pianist for Fort Dodge Choral Society and has
entertained aboard Norwegian Cruise Lines and collaborated with the Des
Moines Ballet, Palm Beach Symphonette, Center Stage Players and
Poinciana Playhouse. She appears regionally and nationally with soprano
Leanne Freeman-Miller, Drake associate professor of voice, and other
Drake faculty. In addition, she has collaborated with numerous local,
regional and national NATS and MTNA competition winners.
For more information about the recital, call 515-271-3975.