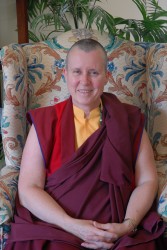 Abbess Khenmo Drolma
CONTACT: Lisa Lacher, 515-271-3119, lisa.lacher@drake.edu
Artist Khenmo Drolma, who serves as abbess of the Tibetan Buddhist Vajra Dakini Nunnery in Vermont, will present "From Artist to Abbess: The Power of Altruism," on Monday, March 30, at Drake University.
The event, which is free and open to the public, will begin at 7 p.m. in Bulldog Theater in Olmsted Center, 2875 University Ave.
Before becoming abbess of the nunnery, Drolma was a sculptor and professor of art for more than 10 years at Maine College of Art.
In her slide lecture, Drolma will discuss her evolution as an artist and Tibetan Buddhist nun.
In 2002, she was invited to go to India to create a statue of an historic Tibetan king, Songtsen Gonpo. While in India, she was asked to supervise the art created for the Songtsen Library, an international library in India specializing in preserving the culture of the Himalayas. Her slide lecture will feature these Tibetan and Himalayan works of art.
Drolma has trained with a number of renowned Tibetan Buddhist teachers, including H. H. Dalai Lama, H. H. Chetsang Rinpoche and Venerable Pema Chodron.
Her lecture is sponsored by the Drake Center for Global Citizenship, the Drake Center for the Humanities, the Department of Art and Design and the Department of Philosophy and Religion.
For more information about the event, contact Judith Allen, associate professor of psychology, at judith.allen@drake.edu or 515-271-2861.