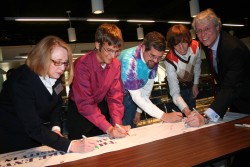 L to R: Vicky Payseur, Robb Krehbiel, Drake Associate Professor David Courard-Hauri, Matt Jurysta and Des Moines Mayor Frank Cownie sign the 5,000 Acts of Green banner.
MEDIA CONTACTS: Matt Jurysta, 515-783-9724; matthew.jurysta@drake.edu;
Tory Olson, 515-271-1834, tory.olson@drake.edu;
As part of its recently launched 5,000 Acts of Green
campaign, Drake University students, faculty and staff have pledged 4,155 green
acts to help the environment, one act at a time.
"It is great to see everyone pull together," said
Robb Krehbiel, president of Drake's Environmental Action League, which
spearheaded the initiative. "We've already had students offer to plant
trees and bring solar panels to campus."
The collaborative environmental campaign, which challenges
the Drake community to pledge 5,000 acts, is part of another project in Canada
called One Million Acts of Green. Examples
of green acts are available online.
In its first week, the Drake initiative already is catching
national attention.
CISCO, an Internet networking company based in California,
recently contacted Drake about developing a broader challenge program involving
colleges and universities across the United States.
"We are hoping to launch the new 1 Million Acts of
Green program out of Drake soon," said Matt Jurysta, a first-year student
and 5,000 Acts of Green event coordinator.
Participants and special guests, including Des Moines Mayor
Frank Cownie, gathered on Wednesday for a special ceremony to celebrate the
challenge and sign Drake's 15-foot-long 5,000 Acts of Green banner.
At the ceremony, Jurysta congratulated students and campus
groups for pledging green acts and helping make a difference.
"The idea behind the campaign is that one small act can
make a big difference," said Jurysta, an environmental science and policy
major from Ontario, Canada. "It's not about overhauling your life; it's
about one act from each individual amassing to a million," he added.
"We're so proud of Matt and our students," said
Vicky Payseur, chair of Drake's Sustainability Committee.
The University has signed onto the American College and University Presidents Climate Commitmentand also is committed to its green initiative, "Blue is Green."
Some Drake groups that have committed to the initiative,
such as Drake's fraternities and sororities and the Athletic Department, have
established new recycling programs.
The 5,000 Acts of Green week will lead into DEAL's Earth Jam
weekend celebration.
Activities will continue on Friday, March 27, with a 7 p.m.
screening of the film "The 11th Hour," a documentary made
by celebrities to raise awareness about little changes that can help the
environment. This film, which is free and open to the public, will be shown on
Pomerantz Stage in Olmsted Center.
The week will culminate on Saturday, March 28, with an 8
p.m. Earth Jam concert featuring popular local bands, such as Cloud Cult,
Andrew's Ave, Cleo's Apartment and House of Normandie, on Pomerantz Stage in
Olmsted Center. The concert is free and open to the public.
For more information, log onto the Drake Acts of Green Web page
at http://greennexxus.cbc.ca/group.aspx?id=1000.