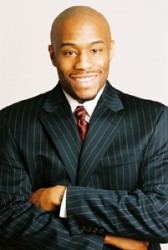 Marc Lamont Hill
Drake University's Coalition of Black Students will host "An Evening of Inspiration and Call to MARCH," featuring motivational speaker Marc Lamont Hill, on Tuesday, March 31.
The event, which is free and open to the public, will begin at 7 p.m. in Bulldog Theater in Olmsted Center, 2875 University Ave.
The presentation is designed to motivate members of the Drake community, addressing the importance of self-improvement and making a difference now and in the future.
Hill is assistant professor of urban education and American studies at Temple University in Philadelphia. His academic research focuses on intersections among youth culture, identity and educational processes.
He provides regular commentary for media outlets such as NPR, the Washington Post, and the New York Times. In addition, he is a political contributor for Fox News programs, including "The O'Reilly Factor" and "Hannity and Colmes."
In 2005, Ebony Magazine named him one of America's Top 30 Black Leaders Under 30.
As a social justice activist, Hill is a founding board member of My5th, a nonprofit organization educating youth about their legal rights and responsibilities. He also works closely with the ACLU Drug Reform Project, focusing on drug informant policy.