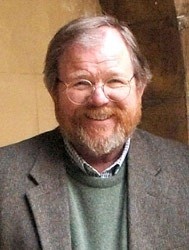 Bill Bryson
MEDIA CONTACT: Lisa Lacher, 515-271-3119, lisa.lacher@drake.edu
Bill Bryson, a best-selling author whose books have sold 10 million copies worldwide and been translated into 20 languages, will present Drake University's spring Martin Bucksbaum Distinguished Lecture on Thursday, April 2.
The event, titled "You Can Go Home Again: An Evening with Bill Bryson," is free and open to the public and will be held at 7:30 p.m. in the Drake Knapp Center, 2525 Forest Ave. The doors will open at 6 p.m. A book signing will follow the lecture.
A feature story about Bryson appeared in Sunday's Des Moines Register. Read the story on the Register Web site. A blog about Bryson's talk with reader commentary also is available on the Register's Web site.


Before his lecture, Bryson will be recognized with an honorary Doctor of Humane Letters degree from the University.
Bryson, a Des Moines native who attended Drake and Roosevelt High School, has spent much of his life in England and has become internationally acclaimed.
The Drake National Alumni Association will recognize Bryson's accomplishments by presenting him with an Alumni Achievement Award immediately following a luncheon at Drake on April 2. The award ceremony, which is free and open to the public, will start at 1:30 p.m. in the Cowles Library Reading Room, 2725 University Ave.
Following the ceremony, Bryson will participate in a question-and-answer session beginning at 2 p.m. in the Reading Room.
Bryson has received numerous awards. His book, "A Short History of Everything," was awarded with the Aventis prize from Britain's Royal Society as well as the European Union's Descartes Prize. His charitable book, "African Diary," raised more than $500,000 for CARE International.
Bryson is chancellor of the University of Durham, England's third oldest university. He served on the board of directors of English Heritage, which is the British governing body responsible for the country's historic movement, for four years. He lives in Norfolk, England, with his wife. They have four children.
In 2006, Bryson received an honorary Order of the British Empire by the British government and the President's Prize by Britain's Royal Society of Chemistry. In 2007, he received the highest award from the Museum of Science in Boston — the annual Bradford Washburn Award.
Bryson's work will also be featured in Des Moines in June. The Des Moines Playhouse will perform one of his best-selling stories, "The Life and Times of Thunderbolt Kid."
The book and play explore Bryson's own funny story of youthful adventures in Des Moines in the 1950s-60s. Performances will run June 12-28.
The Martin Bucksbaum Distinguished Lecture Series is made possible by a gift from Melva and the late Martin Bucksbaum, established by a substantial gift to Drake University in 1996. Mr. Bucksbaum was a member of Drake's governing board and a leader in the Des Moines community.