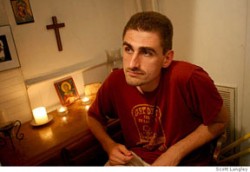 Jonathan Wilson-Hartgrove
CONTACT: Lisa Lacher, 515-271-3119, lisa.lacher@drake.edu
Jonathan Wilson-Hartgrove, an author engaged in peacemaking, reconciliation efforts and issues of social justice, will give a lecture at Drake University on Friday, April 3.
The lecture is titled "How to End Poverty Without Getting Rid of Poor People: Tactics from Jesus for a New Economy Now." The event, which is free and open to the public, will start at 4 p.m. in the Reading Room of Cowles Library, 2725 University Ave.
Wilson-Hartgrove, a graduate of Eastern University and Duke Divinity School, is an associate minister at the historically black St. Johns Baptist Church in Durham, NC.
He also works with the Rutba House — a new monastic community that prays, eats and lives together, welcoming the homeless to join the group as brothers and sisters.
In addition, he directs the School for Conversion, an alternative seminary that hosts courses around the country.
Wilson-Hartgrove is an evangelical Christian who writes as both a grassroots intellectual and popular theologian, addressing a wide spectrum of challenges facing the church today.
His recent books include:

"Free to be Bound: Church Beyond the Color Line"
"New Monasticism: What It Has to Say to Today's Church"
"Becoming the Answer to Our Prayers: Prayer for Ordinary Radicals" with Shane Claiborne
His lecture at Drake is co-sponsored by Drake's Center for the Humanities and the Engaged Citizen Experience.
For more information, contact Brantley Gasaway at 515-271-3748 or brantley.gasaway@drake.edu.