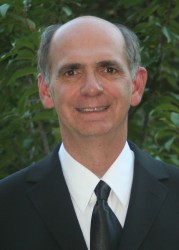 Joe Lenz
CONTACT: Lisa Lacher, 515-271-3119, lisa.lacher@drake.edu
Joe Lenz, who has served as interim dean of Drake University's College of Arts and Sciences since Aug. 1, 2007, has been appointed dean of the college, effective April 1.
"During the past year and a half, Joe Lenz has earned the respect of the Arts and Science faculty and staff," Drake Provost Ron Troyer said in announcing the appointment following a national search. "I am confident that he will be an effective dean for the college and a strong contributing member of the University leadership team."
As interim dean, Lenz has been a dynamic leader involved in many projects, including:

Revising the college promotion and tenure procedures
Planning for expanded and renovated science facilities
Initiating increased support for the Student Travel and Research Fund
Revising funding for faculty development and research support
Beginning the revision of the college's five-year strategic plan, aligning it with the University's goals and objectives
Arranging for Drake to join the consortia of colleges and universities associated with the Studio Arts Center International in Florence, Italy, opening new opportunities for study abroad for Drake students and faculty
"I am honored to be asked to continue to serve as the dean of Arts and Sciences at Drake University," Lenz said. "I am thankful for the confidence that President David Maxwell and Provost Troyer have shown in me, and look forward to working with our new provost, Michael Renner.
"Most of all," he added, "I am grateful for the support over the past two years of the faculty, staff, alumni and friends of the college. With their help, we can create a distinctive learning environment for our students that will maintain and enhance Drake's place as one of our premier universities."
With 129 full-time faculty and 1,289 students, the College of Arts and Sciences is the largest of Drake's six colleges and schools.
Before becoming interim dean, Lenz was professor of English and chair of the English Department, a position he had held since 1992.
Lenz, who earned his Ph.D. in English from the University of Illinois, taught at the University of Michigan before joining Drake in 1982.
His teaching and writing focus on Shakespeare, early modern writers, the romance genre, law and literature as well as literary criticism. He has created more than a dozen courses, including two seminars for first-year students and a Shakespeare course that he teaches entirely on the Web.
In addition, Lenz has served on numerous college and university committees and was acting director of the Law, Politics and Society program before becoming interim dean. He also was vice chair of the University's Self-Study Committee on Preparing for the Future, which addressed requirements and criteria for accreditation set by the Higher Learning Commission of the North Central Association of Colleges and Schools.