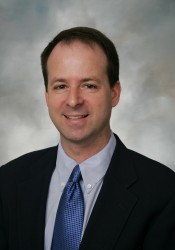 David Zgarrick
Drake University professor David Zgarrick has been selected as a 2008-09 Fellow of the American Pharmacists Association Academy of Pharmaceutical Research and Science (APhA-APRS).
"Dr. Zgarrick has committed significant time and talent in support of this organization," said Raylene Rospond, dean of Drake's College of Pharmacy and Health Sciences. "This recognition is well-deserved and directly supports the college mission of leadership in the profession."
Candidates for APhA Fellow must have at least 10 years of experience and achievements in professional pharmacy practice and outstanding service in the profession through activities in APhA and other organizations.
Zgarrick, the John R. Ellis Distinguished Chair of pharmacy practice and professor of pharmacy administration, will officially be recognized as a 2009 Fellow at the APhA Annual Meeting on April 4 in San Antonio, Texas.
He has served APhA in roles ranging from an Academy of Students of Pharmacy (ASP) chapter president and regional delegate to reviewer and committee member for the Academy of Pharmaceutical Research and Science's Economic, Social and Administrative Sciences section.
Zgarrick is active in national and state pharmacy associations and currently serves on the Board of Directors of the American Association of Colleges of Pharmacy.
He also practiced in both independent and chain community pharmacy settings and was on the faculty at Midwestern University Chicago College of Pharmacy. There, he served as vice chair of pharmacy practice and coordinator of Community Pharmacy Residency Programs.
His areas of teaching include pharmacy practice management, entrepreneurship and primary literature evaluation. His research interests encompass the pharmacy workforce, pharmacist unionization and the use of evidence-based medicine by pharmacists.
Zgarrick is co-editor of "Pharmacy Management: Essentials for All Practice Settings," and executive associate editor of "Currents in Pharmacy Teaching and Learning."
He is a graduate of the University of Wisconsin – Madison School of Pharmacy and received a Ph.D. in Pharmacy Administration from The Ohio State University College of Pharmacy.