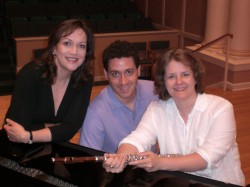 Katharine Goeldner, Michael Heaston and Amy Morris.
Pianist and Drake University alumnus Michael Heaston will return to his alma mater as a member of a music trio — The Prairie Song Project — to give a concert on Tuesday, March 24.
The performance, which is free and open to the public, will begin at 8 p.m. in Drake's Sheslow Auditorium in Old Main, 2507 University Ave.
Joining Heaston, who received his bachelor's degree from Drake, are Prairie Song Projects members Katharine Goeldner, mezzo soprano, and Amy Morris, flute.
They will perform Iowa premieres of:
Peter Ash's "Paradox," texts by Shakespeare and Willa Cather
Rory Boyle's "A Handful of Leaves," a song cycle with settings of poetry by Ted Kooser, former United States Poet Laureate
The Prairie Song Project's members all have ties to Iowa.
Heaston, a native of Des Moines, is the son of Pat Heaston, the Aliber distinguished professor of accounting at Drake.
He is a resident of New York City, is well-known for his performances with the Metropolitan Opera, Glimmerglass Opera and The Dallas Opera, among others. He is a vocal coach, artistic administrator and collaborative pianist. He also holds a master's degree in music in accompanying and coaching from the University of Minnesota.
Goeldner, originally from Sigourney, Iowa, and Morris of Omaha, both graduated from the University of Iowa, where they were college roommates. This collaboration is a celebration of their friendship, their love for Midwest roots and the joy of music.
Goeldner now lives in Salzburg, Austria, where she studied German Lieder at Salzburg's Hochschule Mozarteum with Paul von Schilhawsky and continues vocal studies with Dale Fundling.
She has recently performed with the New York City Opera, Santa Fe Opera and Glimmerglass Opera of New York.
Morris, a resident of Minneapolis, is a professional soloist, orchestral and chamber music performer and teacher. She also is the second flutist with the Minnesota Opera Orchestra, with which she has played since 1997.
She also has performed with the Sarasota Opera, Des Moines Metro Opera, Rome Festival Orchestra, Cedar Rapids Symphony and the American Wind Symphony. Morris also holds a master's degree from Northwestern University.