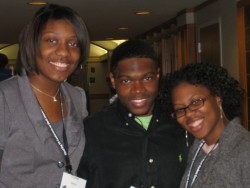 L to R: Crystal Nance, Matt Martin and Shannon Smith gather for a photo at last week's conference.
Nine Drake University students are striving to make a difference on Drake's campus after recently attending the 32nd Annual Big XII Conference on Black Student Government.
The "Be The One" conference, which was held at the University of Kansas in Lawrence, Kan., focused on encouraging black students to be the one to speak up for change and make a difference.
The Drake students joined approximately 850 students from the Big XII region at the conference.
Drake students were invited to attend based on the university's proximity to Iowa State University, a Big XII school, and attendance was organized through Drake's Coalition of Black Students (CBS).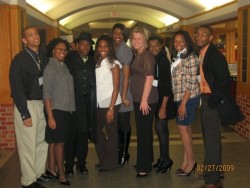 Delegates from this year's conference.
This year's delegates were:
Crystal Nance, a junior from Kansas City, Mo., double-majoring in public relations and sociology, and president of CBS

Lawrence Crawford, a sophomore from, Kansas City, Mo., double-majoring in public relations and international relations

Shannon Smith, a senior from Chicago, majoring in biochemistry and cell and molecular biology with a minor in biology

Byron Spears, a sophomore from Blue Springs, Mo., double-majoring in history and politics

Danielle Ford, a sophomore from Naperville, Ill., majoring in health sciences with a minor in business and concentration in human resources

Matt Martin, a first-year student from Little Rock, Ark., double-majoring in public relations and musical theatre

Lauren Reed, a first-year student from Chicago, majoring in biochemistry and cell and molecular biology

Melisande Hinds, a first-year student from Carlisle, Iowa, majoring in pharmacy

Gloria Mavungu, a first-year student from Olathe, Kan., with an undeclared major
"The conference was a great opportunity to evaluate the success, failures, and overt influences of Drake's black student population," Crawford said. "The topics from the conference have substantially motivated me to follow the theme and 'Be the One'."
"This was an overall great experience," he added. "I think Drake and its future delegates have great potential to impact this conference and others like it in the future!"
"I plan to reevaluate myself and establish a firm definition as to why I am in college and then address my reasons for wanting to be a leader on campus, particularly the leader of CBS," Nance said. "I do believe most of the students who attended really took advantage of all the information offered and that is the point of the conference."
Students had the opportunity to listen to eight keynote speakers and participate in numerous workshops, including a career fair. Through these sessions, students were able to discuss:
student involvement and leadership on college campuses

the need for college students to become mentors in the community communities

the responsibility of individuals to initiate change
The Big XII Council on Black Student Government, which hosts the event, was created in 1977 when black students from schools in the Big Eight Conference realized that they were suffering from similar problems on their respective campuses. Each year, the conference addresses a variety of issues facing black students at predominately white institutions.