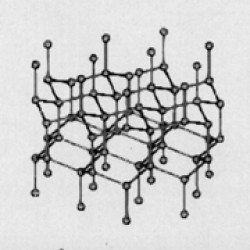 One of many allotropes of carbon.
"Carbon," an exhibition of interdisciplinary exchange between the visual arts and liberal and professional arts across the University, will open with a reception on Friday, March 6.
The reception, which is free and open to the public, will run from 5 to 7 p.m. in the Weeks Gallery in the lobby of the Harmon Fine Arts Center, 25th Street and Carpenter Avenue. Refreshments will be served.
The exhibition, which also is free and open to the public, will continue through March 28. The gallery hours are 9 a.m. to 5 p.m. Monday through Sunday.
Students participating in "Carbon" have a wide array of majors, including:

Biochemistry, cell and molecular biology
Computer science
Drawing
Education
English writing
Environmental science
Graphic design
Law, politics and society
News-Internet
Painting
Printmaking
Religion
Sculpture
Drake's first "Carbon" exhibition took place in 2000. The title of the project was inspired by the collaborative nature of carbon — the elemental glue of all organic life, said Angela Battle, Drake associate professor of art and coordinator of the "Carbon" exhibitions.
"The potential for collaborations between student artists and students in a wide variety of other disciplines is enormous and exciting," she added.