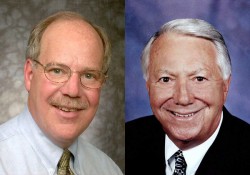 Daniel Schweiker and James Myers
ALUMNI TO PRESENT EXECUTIVE IN RESIDENCE LECTURE
Arizona business leaders and Drake alumni Daniel Schweiker and James Myers will share their expertise on entrepreneurial ventures in a presentation at Drake on Wednesday, March 11.
The lecture is part of Drake's Spring 2009 Executive in Residence series, co-hosted by Drake's College of Business and Public Administration and the Donald V. Adams Leadership Institute. The presentation, which is free and open to the public, will start at 7 p.m. in Sheslow Auditorium in Old Main, 2507 University Ave.
During their visit, Schweiker and Myers also will meet with students and faculty for an Entrepreneurial Roundtable Discussion, interact with participants in Drake's Emerging Leaders Collaboration and participate in a question-and-answer session for student leaders.
Schweiker
, a 1976 Drake Law School graduate, has been co-chairman of
China Mist Brands
, headquartered in Scottsdale, Ariz., since it was founded in 1982. China Mist Brands was the first business to introduce gourmet fresh-brewed iced tea to the food service industry and has grown into a nationally recognized market leader for specialty iced and hot teas.
Schweiker has won the Small Business of the Year award by the Scottsdale Chamber of Commerce in 1996 and Small Business Person of the Year award by the Phoenix Chamber of Commerce in 1994. He also received the Entrepreneur of the Year Award in Arizona, sponsored by Ernst & Young, Merrill Lynch and Inc. Magazine in 1993.
As an active member of the community, Schweiker serves as vice chair of Friends of Public Radio Arizona. He is an honorary community champion as part of Teach for America, a board member of the Scottsdale Convention and Visitor Bureau and an advisory board member of Audrey's Angels, a charity providing living assistance to senior citizens in Phoenix.
Myers
is chief executive officer of Myers Management & Capital Group, a firm located in Phoenix that assists some 70 CEOs across the nation in developing and growing their businesses.
He is a member of numerous boards of directors of public and private corporations and serves as chief executive officer of CMC Golf Inc.
Myers previously served as CEO of Nationwide Industries, New Hermes and the Victorio Companies. He also was chief operating officer and general manager of multiple Fortune 500 companies including Sunbeam Corp., Dart Industries and Questor Corp.
In addition, Myers is active with the Central Arizona Shelter Services for the homeless and St. Christopher's Inn, a shelter for homeless and addicted men, in New York. He has been named Arizona Humanitarian of the year by the National Conference of Christians and Jews.
Myers attended Drake in 1952-54 and received a bachelor's degree from Northwestern University.
DRAKE SINGERS HEAD WEST FOR SPRING CONCERT TOUR
The Drake Choir and Chamber Choir will serenade alumni, friends and music lovers in Nebraska and Colorado during their regional tour in March.
The ensembles — Drake's most select choirs — will perform a wide variety of music at their concerts in Lincoln, Neb., Denver and Fort Collins, Colo.
These award-winning choirs include students from every college of the University and they tour annually on a regional basis and internationally every four years. In spring 2008 they sang in Rome, Assisi, Florence, Salzburg and Vienna.
They've also performed in England, Germany, the Czech Republic and at New York City's Carnegie Hall and for the American Choral Directors Association North Central Division conference.
Alumni and friends are invited to bring family and friends to the spring tour concerts. All performances are free and open to the public. The choirs' latest CD, "I Am in Need of Music," will be available for purchase at each concert.
Performances are scheduled as follows:
Wednesday, March 11, 8 p.m., First Christian Church, Lincoln, Neb.
Thursday, March 12, 8 p.m., First United Methodist Church, Fort Collins, Colo.
Friday, March 13, 8 p.m., Augustana Lutheran Church, Denver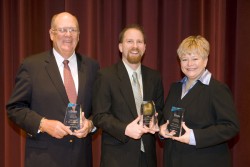 Patty Kumbera, Larry Mayhew and Michael Case-Haub.
DRAKE RECOGNIZES OUTSTANDING PHARMACY AND EDUCATION ALUMNI
Last month, Drake's College of Pharmacy and Health Sciences and the School of Education honored six outstanding alumni who have made significant contributions to their respective professions and to the Drake community.
Three pharmacy alumni were honored at Drake University's College of Pharmacy and Health Sciences' 22nd student-organized Pharmacy and Health Sciences Day on Feb. 17.
The honorees were selected based on their service to the college, distinction in their careers and civic and community contributions.
The 2009 Alumni Achievement Awards were presented to:
Patty Kumbera

, PH'88, is co-founder and chief operating officer of Outcomes Pharmaceutical Health Care in Des Moines. She previously was director of managed care services at the Iowa Pharmacy Association. Kumbera is a member of the Drake College of Pharmacy's National Advisory Council.

Larry Mayhew

, PH'67, who owned six pharmacies in the Phoenix, Ariz., area until his retirement in 2005. A resident of Fountain Hills, Ariz., Mayhew serves as president of the Arizona Pharmacists Association and the American College of Apothecaries.

Michael Case-Haub

, PH'02, is pharmacy manager of the Hy-Vee Pharmacy in West Des Moines. He has served as a leader in implementing and receiving reimbursement for clinical pharmacy services in the community pharmacy setting. He is a member of the Iowa Pharmacy Association, among others.

Nancy Sebring, Judith Cunningham and Scott Raecker.
The School of Education honored three educators during the Believers and Achievers Banquet, the school's annual Alumni Awards and Senior Recognition Dinner, on Tuesday, Feb. 24.
The award winners are:
Nancy Sebring

, superintendent of the Des Moines Public Schools. A resident of Des Moines, Sebring received her master's, specialist and doctorate degrees in education from Drake.

Judith Cunningham

, who retired in 2008 as executive director of K-12 Regional Programs for Des Moines Public Schools. She had worked for the school district for 40 years. A resident of Estes Park, Colo., Cunningham received her master's degree in education from Drake.

Scott Raecke

r, state legislator and executive director of the Institute for Character Development at Drake University. Raecker is a resident of Urbandale, Iowa.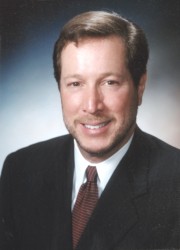 President David Maxwell
DRAKE LOOKS INWARD TO SECURE SOLID POSITION WITHIN SHAKY ECONOMY

In addition to all of the ways Drake is helping its alumni,
students, faculty, staff and area residents weather the economic crisis, the
University also is positioning itself to withstand the storm.
Drake leaders recently held a town hall meeting to inform
faculty and staff about the University's own position in the economy.
University leaders announced a set of precautionary measures that involve
delaying or reducing certain types of expenditures until there are revenues to
support them.
"At Drake, we have been monitoring the situation with
great attentiveness and care," said President David Maxwell.
"Fortunately, to date we have not found it necessary to undertake any
dramatic, short-term measures…the key issues are retention of current students
and meeting our enrollment goals for entering first-year students and
transfers."
Drake's retention rate in recent years has been extremely
higher than average, and the University significantly exceeded first-year
enrollment goals for the past two years.
"The good news in all this is twofold: one of our
strategic goals was to create a University that had the strength, flexibility, resiliency
and agility to manage change, and to respond to the unexpected," Maxwell
added. "Our ability to ride out the storm thus far suggests that we
achieved that goal."
"The critical question as we plan for next year (and
the years following) is the impact that the economic downturn will have on our
students' (current and prospective) ability to afford Drake, even with our low
cost (relative to our peers) and considerable ($44 million) commitment to
financial aid," Maxwell said.
If Drake's enrollments and revenues miss the mark, the
University will respond based on four carefully planned budget scenarios (best
case, likely case, worse case and worst case).
Although Drake's position is strong
— thanks to solid support in the past — the ability to continue operating in
a similar position hinges on the support of Annual Fund programs. These
programs provide the University its most flexible tool for meeting the needs of
its students, faculty and staff, especially in these challenging times.
"It would be foolish to expect,
of course, that the economic crisis will not affect Drake in some ways. It is
already having an impact on endowment income and gifts to annual fund,"
Maxwell said.
"But if we continue to meet our
enrollment goals, and if our alumni and friends renew their philanthropic
commitment to the University, the 'best of times' will continue at Drake,
thanks to the energy, wisdom, commitment and generosity of everyone who has
helped us get to this point."
Read more about Annual Fund programs and
consider making a gift online.