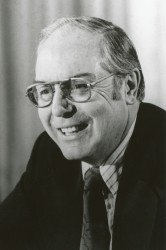 Paul F. Sharp
FORMER DRAKE PRESIDENT PAUL SHARP DIES IN OKLAHOMA
Paul F. Sharp, a nationally renowned historian and widely admired administrator who served as Drake University's eighth president from 1966-1971, died after a lengthy illness on Wednesday, Feb. 18, at his home in Norman, Okla. He was 91.
Sharp came to Drake after serving as chancellor of the University of North Carolina, Chapel Hill, and president of Hiram College in Ohio.
During Sharp's presidency, Drake's enrollment increased by 20 percent and the faculty grew by 40 percent. Sharp saw opportunities for Drake in graduate education, leading to the introduction of several master's programs and the first doctoral program.
Sharp proved to be a highly successful fundraiser, enabling the University to increase faculty salaries, expand scholarship funds and improve facilities. Among the buildings constructed on his watch were the Dial Computer Center, the American Republic Student Health Center, the Point (student center) and an extensive addition that more than doubled the size of Cowles Library. Under Sharp's leadership, Drake also began construction of the Harmon Fine Arts Center.
"While at Drake we had numerous occasions when we traveled together to visit potential donors," recalled John McCaw, professor emeritus of religion and former dean of the Divinity School. "He was always able to convince donors that it was a privilege to give to Drake University and that Drake in turn would continue to support the causes, which they were underwriting."
Sharp left Drake in 1971 to become president of the University of Oklahoma.
"I regretted that the University of Oklahoma took him away from us after five years as there was much left to do at Drake," McCaw said. "However, he turned Drake in the direction of becoming a leading university in the Midwest, including a more diverse student body and faculty."
Sharp led the University of Oklahoma until he suffered a mild stroke in 1978. Although he would recover completely, his wife convinced him that his recuperation demanded more time and effort than his duties as president would allow.
After he regained his health, Sharp returned to the classroom as Regents professor of history and higher education from 1978 to 1988, when he added the emeritus title to his professorship. He continued his active association with the University of Oklahoma, even in retirement, and also served several years as a distinguished professor of history at the University of Science and Arts of Oklahoma in Chickasha.
Sharp also became a major consultant for higher educational institutions and systems throughout the nation and continued to serve on the boards of countless education-related associations, including Educational Testing Service, which he twice chaired.
Born Jan. 19, 1918, in Kirksville, Mo., Sharp was the son of two medical doctors: L. Blanche and Fred Joseph Sharp. He grew up in Crookston, Minn., and first went to Oklahoma to study at Phillips University in Enid, chosen because of its affiliation with the Disciples of Christ (Christian) Church.
There he met Rose Anderson on the debate team; they began their 69-year marriage in 1939 after he earned his bachelor's degree.
His graduate study at the University of Minnesota was interrupted by World War II service in U.S. Navy as liaison officer to the Royal Australian Navy aboard the HMAS Hobart. He returned to Australia with Rose as a Fulbright lecturer in 1952 and on research leave in 1977.
He earned his Ph.D. at Minnesota, where he was an instructor in history. He went on to teach as an associate professor at Iowa State University and a professor at the University of Wisconsin, Madison.
His academic awards are almost too numerous to list. He received eight honorary doctorates, the distinguished Achievement Award from Phillips University, the Outstanding Achievement Award from the University of Minnesota and the Distinguished Service Citation from the University of Oklahoma.
His work as a historian, where he specialized in Canadian-American history, was widely respected. His book "Whoop-up Country" earned the Silver Spur Award from the Western Writers of America as 1955's best non-fiction book on the American West.
Sharp's survivors include his wife, of the home; three children, William Frederick Sharp and his wife, Liz, of Homer, N.Y.; Kathryn Ann Dunlap, of Oklahoma City; and Paul Trevor Sharp and his wife, Jane, of Greensboro, N.C.; seven grandchildren and seven great-grandchildren; and his sister, Thelma Miller, of Colorado Springs.
In lieu of flowers, donations may be made to the Reach Out and Read Program through the University of Oklahoma Foundation, Inc., 100 Timberdell Road, Norman, OK 73019.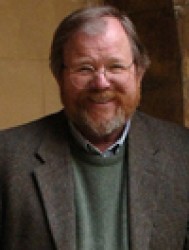 Bill Bryson
BILL BRYSON TO GIVE BUCKSBAUM LECTURE
Bill Bryson, best-selling author whose books have sold 10 million copies worldwide and been translated into 20 languages, will present Drake's spring Martin Bucksbaum Distinguished Lecture on Thursday, April 2.
The event, titled "You Can Go Home Again: An Evening with Bill Bryson," is free and open to the public and will be held at 7:30 p.m. in the Drake Knapp Center. A book signing will follow.
Before his lecture, Bryson will be recognized with an honorary Doctor of Humane Letters degree from the University.
In addition, he will accept an Alumni Achievement Award earlier that day immediately following a luncheon at Drake. The award ceremony, which is free and open to the public, will be held at 1:30 p.m. in the Cowles Library Reading Room. Following the ceremony, Bryson will participate in a question-and-answer session at 2 p.m.
Bryson, a Des Moines native who attended Drake and Roosevelt High School, has spent much of his life in England and has become internationally acclaimed.
His book, "A Short History of Everything," was awarded with the Aventis prize from Britain's Royal Society as well as the European Union's Descartes Prize. His charitable book, "African Diary," raised more than $500,000 for CARE International.
Bryson is chancellor of the University of Durham, England's third oldest university. He served on the board of directors of English Heritage, which is the British governing body responsible for the country's historic movement, for four years. He lives in Norfolk, England, with his wife. They have four children.
In 2006, Bryson received an honorary Order of the British Empire by the British government and the President's Prize by Britain's Royal Society of Chemistry. In 2007, he received the highest award from the Museum of Science in Boston — the annual Bradford Washburn Award.
Bryson's work will also be featured in Des Moines in June. The Des Moines Playhouse will perform one of his best-selling stories, "The Life and Times of Thunderbolt Kid." The book and play explore Bryson's own funny story of youthful adventures in Des Moines in the 1950s-60s. Performances will run June 12-28.
The Martin Bucksbaum Distinguished Lecture Series is made possible by a gift from Melva and the late Martin Bucksbaum, established by a substantial gift to Drake University in 1996. Mr. Bucksbaum was a member of Drake's governing board and a leader in the Des Moines community.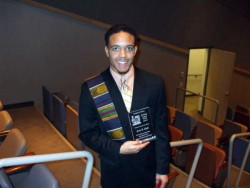 Eric Hall
STUDENT HONORED FOR POSITIVE IMPACT ON IOWA COMMUNITY
Eric Bertram Hall, a first-year student at Drake, recently received one of three Heritage Legacy Awards from I'll Make Me a World in Iowa for his commitment to making a difference in Iowa.
Hall, 19, accepted the Evelyn K. Davis Youth Award at the recent Embracing Excellence Gala, sponsored by Iowa First Lady Mari Culver and Teree Caldwell-Johnson, a Des Moines School Board member.
"I am honored to have been chosen for the award," Hall said. " I am grateful to the people who made the award possible and I promise to dedicate my life to the education and empowerment of people in the black community."
The Heritage Legacy Awards recognize Iowans, both African-American individuals and organizations, whose creative and civic activities in African-American life and culture have made powerful and positive differences in their communities and country.
The Outstanding Individual Award was presented to Robert Wright Sr. and the Leading Organization Award was given to Iota Zeta Omega Chapter Alpha Kappa Alpha Sorority Inc.
The two-day celebration also featured soul food and a special guest, actress Vivica A. Fox and performances by American Idol Season 4 finalist Nikko Smith. A fine arts show displayed artwork by local African-American artists such as muralist Jill P.M. Wells, Nigeria native Edem Jimbo and New Orleans transplant Mikiel Williams, and music by Kevin Burt, Tony Brown and Effie Burt.
Hall graduated from Roosevelt High School in 2008 and is an economics and entrepreneurial management major at Drake. He is a Division I decathlete on Drake's track and field team and is active in the Des Moines community. He is the son of JD Hall and Mary Ellen Imlau of Des Moines.
A committed community service volunteer, Hall has been president of the Des Moines NAACP Youth Council, a coordinator for Young Legendz Radio Show and a member of Drake's Coalition of Black Students.
He also was an Ignite mentor and met with high school freshmen to talk about leadership and team building as part of a mentoring program at Roosevelt.
Hall has received many awards for athletics and academics, such as track and field honors, Delta Epsilon Chi Association competitions and the Academic, Athletic, Achievement "AAA" Award from the National Black Child Development Institute.