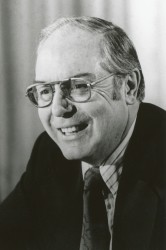 Paul F. Sharp
Paul F. Sharp, a nationally renowned historian and widely admired administrator who served as Drake University's eighth president from 1966-1971, died after a lengthy illness on Wednesday, Feb. 18, at his home in Norman, Okla. He was 91.



Sharp came to Drake after serving as chancellor of the University of North Carolina, Chapel Hill, and president of Hiram College in Ohio.
During Sharp's presidency, Drake's enrollment increased by 20 percent and the faculty grew by 40 percent. Sharp saw opportunities for Drake in graduate education, leading to the introduction of several master's programs and the first doctoral program.
Sharp proved to be a highly successful fundraiser, enabling the University to increase faculty salaries, expand scholarship funds and improve facilities. Among the buildings constructed on his watch were the Dial Computer Center, the American Republic Student Health Center, the Point (student center) and an extensive addition that more than doubled the size of Cowles Library. Under Sharp's leadership, Drake also began construction of the Harmon Fine Arts Center.
"While at Drake we had numerous occasions when we traveled together to
visit potential donors," recalled John McCaw, professor emeritus of religion and former dean of the Divinity School. "He was always able to convince donors that it
was a privilege to give to Drake University and that Drake in turn
would continue to support the causes, which they were underwriting."
A photo gallery showing some of the highlights of Sharp's tenure at Drake is available online.
Sharp left Drake in 1971 to become president of the University of Oklahoma.
"I regretted that the University of Oklahoma took him away from us
after five years as there was much left to do at Drake," McCaw said. "However, he
turned Drake in the direction of becoming a leading university in the
Midwest, including a more diverse student body and faculty."
Sharp led the University of Oklahoma until he suffered a mild stroke in 1978. Although he would recover completely, his wife convinced him that his recuperation demanded more time and effort than his duties as president would allow.
After he regained his health, Sharp returned to the classroom as Regents professor of history and higher education from 1978 to 1988, when he added the emeritus title to his professorship. He continued his active association with the University of Oklahoma, even in retirement, and also served several years as a distinguished professor of history at the University of Science and Arts of Oklahoma in Chickasha.
Sharp also became a major consultant for higher educational institutions and systems throughout the nation and continued to serve on the boards of countless education-related associations, including Educational Testing Service, which he twice chaired.
Born Jan. 19, 1918, in Kirksville, Mo., Sharp was the son of two medical doctors: L. Blanche and Fred Joseph Sharp. He grew up in Crookston, Minn., and first went to Oklahoma to study at Phillips University in Enid, chosen because of its affiliation with the Disciples of Christ (Christian) Church.
There he met Rose Anderson on the debate team; they began their 69-year marriage in 1939 after he earned his bachelor's degree.
His graduate study at the University of Minnesota was interrupted by World War II service in U.S. Navy as liaison officer to the Royal Australian Navy aboard the HMAS Hobart. He returned to Australia with Rose as a Fulbright lecturer in 1952 and on research leave in 1977.
He earned his Ph.D. at Minnesota, where he was an instructor in history. He went on to teach as an associate professor at Iowa State University and a professor at the University of Wisconsin, Madison.



His academic awards are almost too numerous to list. He received eight honorary doctorates, the distinguished Achievement Award from Phillips University, the Outstanding Achievement Award from the University of Minnesota and the Distinguished Service Citation from the University of Oklahoma.
His work as a historian, where he specialized in Canadian-American history, was widely respected. His book "Whoop-up Country" earned the Silver Spur Award from the Western Writers of America as 1955's best non-fiction book on the American West.
Sharp's survivors include his wife, of the home; three children, William Frederick Sharp and his wife, Liz, of Homer, N.Y.; Kathryn Ann Dunlap, of Oklahoma City; and Paul Trevor Sharp and his wife, Jane, of Greensboro, N.C.; seven grandchildren and seven great-grandchildren; and his sister, Thelma Miller, of Colorado Springs.
A private family graveside service is scheduled for today (Saturday, Feb. 21). A public memorial service will be held at 4 p.m. Sunday, Feb. 22, at the First Christian Church, 220 S. Webster in Norman, Okla.
In lieu of flowers, donations may be made to the Reach Out and Read Program through the University of Oklahoma Foundation, Inc., 100 Timberdell Road, Norman, OK 73019.