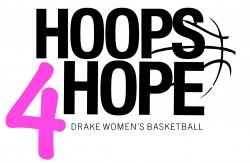 Members of the Drake women's basketball team will show off their pink uniforms as they take the court against Evansville at 2:05 p.m. Saturday, Feb. 14, in the second annual Hoops 4 Hope game at the Drake Knapp Center, 2525 Forest Ave.
The event was started a year ago as a part of the Women's Basketball Coaches Association's Pink Zone initiative to raise awareness of breast cancer. For the second year in a row, fans are encouraged to join the Bulldogs in wearing pink to the game in support of cancer awareness.
"Drake Athletics is honored to host this grand event to raise cancer awareness," said Drake Athletic Director Sandy Hatfield Clubb. "Our student athletes and staff will proudly wear pink to honor cancer survivors and to bring awareness to this devastating disease."
The game will be nationally televised on ESPNU.
During the game, fans will have a chance to bid on the game-worn jerseys. All proceeds from the silent auction will benefit the American Cancer Society.
To add some additional flare to the event, the first 2,000 fans will receive a free pink Hoops 4 Hope T-shirt, and more than 1,000 pink-and-white Hoops 4 Hope pom-poms will be distributed in the crowd. In addition, 1,000 free souvenir game programs also will be available.
The event is sponsored by Medical Oncology and Hematology Associates, The Iowa Clinic and Mercy Cancer Center.
Tickets for the game are still available through the Drake Athletics Ticket Office at 515-271-3647 or online at www.GoDrakeBulldogs.com. For more information on this event, contact the Drake Athletics Marketing Office at 515-271-1946.