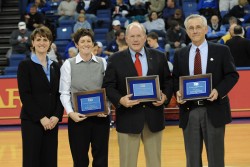 L to R: Athletic Director Sandy Hatfield Clubb, Jenni Fitzgerald, Bob Holliday and Steve Scullen.
Former Drake athletes Jenni Fitzgerald, Bob Holliday and Steve Scullen recently received the Drake Double D Award during halftime of the Drake vs. Northern Iowa men's basketball game at the Drake Knapp Center.
The award is presented annually to Drake letterwinners for achievements in their chosen fields of endeavor and/or community service since leaving Drake.
The Double D Award is the highest honor Drake bestows on its student-athletes. Since its inception in 1968, the Double D honor has been presented to 234 former Drake letterwinners.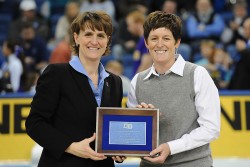 Sandy Hatfield Clubb and Jenni Fitzgerald.
Fitzgerald was the starting point guard for the Drake women's basketball team from 1986-91. She was named the most valuable player on the team as a junior and was named captain as a senior while earning All-Gateway Conference honors.
She was a four-year starter for the Bulldogs and only the second player in Drake history to start every game of her collegiate career.
Fitzgerald graduated from Drake, ranking second on the school career steals list (250) third on the school career free throw percentage chart (.802) and third on the school career assist list (516).
She earned a bachelor's degree in business administration in 1990 and completed her master of science degree in physical education with an emphasis in sport management from Southern Illinois in 1992.
Fitzgerald served as a graduate assistant with the Salukis women's basketball team from 1990-92.
She returned to her alma mater, serving as an assistant coach at Drake from 1993-2000, helping guide the Bulldogs to NCAA Tournament appearances in 1995, 1997, 1998 and 2000.
Fitzgerald is in her ninth season as an assistant coach with the Iowa women's basketball team, helping the Hawkeyes to the Big Ten Conference regular season championship in 2008 as well as five NCAA Tournament berths.
A native of Long Grove, Iowa, Fitzgerald was inducted into the Iowa Girls High School Basketball Hall of Fame in 1995. She was named Iowa's "Miss Basketball" as a senior at North Scott of Eldridge High School in 1986, leading the team to a runner-up finish in the state tournament. She also earned first-team all-state honors in volleyball and softball.
Sandy Hatfield Clubb and Bob Holliday.
Holliday played offensive guard for Drake football teams from 1961-64. He graduated with a bachelor of arts degree in 1965 and obtained his juris doctorate from the Drake Law School in 1968.
Holliday is a partner at Sullivan & Ward PC. He joined the law firm in 1969. He is a member of the Polk County, Iowa State and American Bar Associations. He also serves a certified mediator.
The Des Moines, Iowa, native officiated football for 36 years, spending 17 years in the former Big Eight Conference and five years in the Big 12 Conference.
During his career, Holliday officiated nine bowl games, including the 1994 Rose Bowl game. He was awarded the Distinguished Iowa Award from the National Football Foundation and College Football Hall of Fame.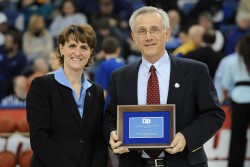 Sandy Hatfield Clubb and Steve Scullen.
A three-year letterman in football and track at Drake, Scullen won the Allen S. Graham Award in 1971 as the outstanding field performer on the Drake track team. He also was co-captain of the 1972 team team.
After graduation from Drake in 1972, Scullen coached high school football and track for 13 years and then served as head men's track and cross country coach at Simpson College.
He returned to Drake in 1986 as head coach of the men's cross country program and assistant men's and women's track coach. He was promoted to assistant head coach of the Bulldog teams in 1992.
Scullen earned a doctrate in human resource management from the University of Iowa. He has been an associate professor of management and international business in the Drake University College of Business and Public Administration since 2004.
Scullen is chairman of the Drake Relays Meet Operations Subcommittee. He initially joined the Drake Relays Executive Committee in 1986 and served as chairman in 1993.