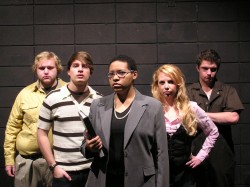 Matthew Oleson, Samuel Button-Harrison, Sierra White, Samantha Trent and Dustin Thomas play key roles in Drake's production of "Safe."
CONTACT: Lisa Lacher, 515-271-3119, lisa.lacher@drake.edu
Drake University Theatre is performing "Safe," a dark comedy by Tony Glazer and Anthony Ruivivar that takes place entirely in a bank vault and explores issues of paranoia and survival.
The production, which opened Thursday, Feb. 12, and continues through Sunday, Feb. 15, is student directed by Matthew Casteel, a senior directing major from St. Louis.
The play begins on a lovely Saturday morning as people are running errands and stopping by the bank to cash checks. Suddenly men in ski masks enter the bank, start firing guns and shoving bank employees and customers into the safe.
The pressures of danger and possible death test the breaking point of innocent people caught in these extraordinary circumstances. They soon abandon logic and reason and start reacting on instinct.
Director Casteel describes "Safe" as a mix between the TV show "Lost" and William Golding's novel "The Lord of the Flies."
"Ordinary people are in life-or-death situations and sometimes resort to drastic levels to make sure they come out alive, even if dramatic sacrifices have to be made," Casteel said. "The psychological stresses placed on these characters are quite interesting. It makes the audience consider, 'How would I react if placed in the same position?'"
Remaining performances will start at 8 p.m. Feb. 14 and at 2 p.m. Feb. 14 and 15 in Studio 55 of the Harmon Fine Arts Center, 25th Street and Carpenter Avenue.
This play contains adult content. The show is produced by special arrangement with Samuel French Inc.
Tickets, which are free with reservations, are available at the Drake Fine Arts Center Box Office. Reservations may be made in person or by calling 515-271-3841.